array(29) {
  [13909]=>
  array(14) {
    ["attributes_values"]=>
    array(1) {
      [367]=>
      string(1) "1"
    }
    ["attributes"]=>
    array(1) {
      [0]=>
      int(6972)
    }
    ["price"]=>
    float(0)
    ["specific_price"]=>
    bool(false)
    ["ecotax"]=>
    float(0)
    ["weight"]=>
    float(0)
    ["quantity"]=>
    float(0)
    ["reference"]=>
    string(0) ""
    ["unit_impact"]=>
    string(8) "0.000000"
    ["minimal_quantity"]=>
    int(1)
    ["available_date"]=>
    string(10) "2016-09-06"
    ["date_formatted"]=>
    string(10) "06/09/2016"
    ["id_image"]=>
    int(44887)
    ["list"]=>
    string(6) "'6972'"
  }
  [13910]=>
  array(14) {
    ["attributes_values"]=>
    array(1) {
      [367]=>
      string(1) "2"
    }
    ["attributes"]=>
    array(1) {
      [0]=>
      int(6973)
    }
    ["price"]=>
    float(0)
    ["specific_price"]=>
    bool(false)
    ["ecotax"]=>
    float(0)
    ["weight"]=>
    float(0)
    ["quantity"]=>
    float(29)
    ["reference"]=>
    string(0) ""
    ["unit_impact"]=>
    string(8) "0.000000"
    ["minimal_quantity"]=>
    int(1)
    ["available_date"]=>
    string(10) "2016-09-06"
    ["date_formatted"]=>
    string(10) "06/09/2016"
    ["id_image"]=>
    int(44888)
    ["list"]=>
    string(6) "'6973'"
  }
  [13911]=>
  array(14) {
    ["attributes_values"]=>
    array(1) {
      [367]=>
      string(1) "3"
    }
    ["attributes"]=>
    array(1) {
      [0]=>
      int(6974)
    }
    ["price"]=>
    float(0)
    ["specific_price"]=>
    bool(false)
    ["ecotax"]=>
    float(0)
    ["weight"]=>
    float(0)
    ["quantity"]=>
    float(0)
    ["reference"]=>
    string(0) ""
    ["unit_impact"]=>
    string(8) "0.000000"
    ["minimal_quantity"]=>
    int(1)
    ["available_date"]=>
    string(10) "2016-09-06"
    ["date_formatted"]=>
    string(10) "06/09/2016"
    ["id_image"]=>
    int(44889)
    ["list"]=>
    string(6) "'6974'"
  }
  [13912]=>
  array(14) {
    ["attributes_values"]=>
    array(1) {
      [367]=>
      string(1) "4"
    }
    ["attributes"]=>
    array(1) {
      [0]=>
      int(6975)
    }
    ["price"]=>
    float(0)
    ["specific_price"]=>
    bool(false)
    ["ecotax"]=>
    float(0)
    ["weight"]=>
    float(0)
    ["quantity"]=>
    float(0)
    ["reference"]=>
    string(0) ""
    ["unit_impact"]=>
    string(8) "0.000000"
    ["minimal_quantity"]=>
    int(1)
    ["available_date"]=>
    string(10) "2016-09-06"
    ["date_formatted"]=>
    string(10) "06/09/2016"
    ["id_image"]=>
    int(44890)
    ["list"]=>
    string(6) "'6975'"
  }
  [13913]=>
  array(14) {
    ["attributes_values"]=>
    array(1) {
      [367]=>
      string(1) "5"
    }
    ["attributes"]=>
    array(1) {
      [0]=>
      int(6976)
    }
    ["price"]=>
    float(0)
    ["specific_price"]=>
    bool(false)
    ["ecotax"]=>
    float(0)
    ["weight"]=>
    float(0)
    ["quantity"]=>
    float(0)
    ["reference"]=>
    string(0) ""
    ["unit_impact"]=>
    string(8) "0.000000"
    ["minimal_quantity"]=>
    int(1)
    ["available_date"]=>
    string(10) "2016-09-06"
    ["date_formatted"]=>
    string(10) "06/09/2016"
    ["id_image"]=>
    int(44891)
    ["list"]=>
    string(6) "'6976'"
  }
  [18867]=>
  array(14) {
    ["attributes_values"]=>
    array(1) {
      [367]=>
      string(1) "6"
    }
    ["attributes"]=>
    array(1) {
      [0]=>
      int(10385)
    }
    ["price"]=>
    float(0)
    ["specific_price"]=>
    bool(false)
    ["ecotax"]=>
    float(0)
    ["weight"]=>
    float(0)
    ["quantity"]=>
    float(23)
    ["reference"]=>
    string(0) ""
    ["unit_impact"]=>
    string(8) "0.000000"
    ["minimal_quantity"]=>
    int(1)
    ["available_date"]=>
    string(10) "2017-06-23"
    ["date_formatted"]=>
    string(10) "23/06/2017"
    ["id_image"]=>
    int(44892)
    ["list"]=>
    string(7) "'10385'"
  }
  [18868]=>
  array(14) {
    ["attributes_values"]=>
    array(1) {
      [367]=>
      string(1) "7"
    }
    ["attributes"]=>
    array(1) {
      [0]=>
      int(10386)
    }
    ["price"]=>
    float(0)
    ["specific_price"]=>
    bool(false)
    ["ecotax"]=>
    float(0)
    ["weight"]=>
    float(0)
    ["quantity"]=>
    float(30)
    ["reference"]=>
    string(0) ""
    ["unit_impact"]=>
    string(8) "0.000000"
    ["minimal_quantity"]=>
    int(1)
    ["available_date"]=>
    string(10) "2017-06-23"
    ["date_formatted"]=>
    string(10) "23/06/2017"
    ["id_image"]=>
    int(44893)
    ["list"]=>
    string(7) "'10386'"
  }
  [13914]=>
  array(14) {
    ["attributes_values"]=>
    array(1) {
      [367]=>
      string(1) "8"
    }
    ["attributes"]=>
    array(1) {
      [0]=>
      int(6977)
    }
    ["price"]=>
    float(0)
    ["specific_price"]=>
    bool(false)
    ["ecotax"]=>
    float(0)
    ["weight"]=>
    float(0)
    ["quantity"]=>
    float(11)
    ["reference"]=>
    string(0) ""
    ["unit_impact"]=>
    string(8) "0.000000"
    ["minimal_quantity"]=>
    int(1)
    ["available_date"]=>
    string(10) "2016-09-06"
    ["date_formatted"]=>
    string(10) "06/09/2016"
    ["id_image"]=>
    int(44894)
    ["list"]=>
    string(6) "'6977'"
  }
  [13915]=>
  array(14) {
    ["attributes_values"]=>
    array(1) {
      [367]=>
      string(1) "9"
    }
    ["attributes"]=>
    array(1) {
      [0]=>
      int(6978)
    }
    ["price"]=>
    float(0)
    ["specific_price"]=>
    bool(false)
    ["ecotax"]=>
    float(0)
    ["weight"]=>
    float(0)
    ["quantity"]=>
    float(0)
    ["reference"]=>
    string(0) ""
    ["unit_impact"]=>
    string(8) "0.000000"
    ["minimal_quantity"]=>
    int(1)
    ["available_date"]=>
    string(10) "2016-09-06"
    ["date_formatted"]=>
    string(10) "06/09/2016"
    ["id_image"]=>
    int(44895)
    ["list"]=>
    string(6) "'6978'"
  }
  [13916]=>
  array(14) {
    ["attributes_values"]=>
    array(1) {
      [367]=>
      string(2) "10"
    }
    ["attributes"]=>
    array(1) {
      [0]=>
      int(6979)
    }
    ["price"]=>
    float(0)
    ["specific_price"]=>
    bool(false)
    ["ecotax"]=>
    float(0)
    ["weight"]=>
    float(0)
    ["quantity"]=>
    float(28)
    ["reference"]=>
    string(0) ""
    ["unit_impact"]=>
    string(8) "0.000000"
    ["minimal_quantity"]=>
    int(1)
    ["available_date"]=>
    string(10) "2016-09-06"
    ["date_formatted"]=>
    string(10) "06/09/2016"
    ["id_image"]=>
    int(44896)
    ["list"]=>
    string(6) "'6979'"
  }
  [18869]=>
  array(14) {
    ["attributes_values"]=>
    array(1) {
      [367]=>
      string(2) "11"
    }
    ["attributes"]=>
    array(1) {
      [0]=>
      int(10387)
    }
    ["price"]=>
    float(0)
    ["specific_price"]=>
    bool(false)
    ["ecotax"]=>
    float(0)
    ["weight"]=>
    float(0)
    ["quantity"]=>
    float(17)
    ["reference"]=>
    string(0) ""
    ["unit_impact"]=>
    string(8) "0.000000"
    ["minimal_quantity"]=>
    int(1)
    ["available_date"]=>
    string(10) "2017-06-23"
    ["date_formatted"]=>
    string(10) "23/06/2017"
    ["id_image"]=>
    int(44897)
    ["list"]=>
    string(7) "'10387'"
  }
  [13917]=>
  array(14) {
    ["attributes_values"]=>
    array(1) {
      [367]=>
      string(2) "12"
    }
    ["attributes"]=>
    array(1) {
      [0]=>
      int(6980)
    }
    ["price"]=>
    float(0)
    ["specific_price"]=>
    bool(false)
    ["ecotax"]=>
    float(0)
    ["weight"]=>
    float(0)
    ["quantity"]=>
    float(0)
    ["reference"]=>
    string(0) ""
    ["unit_impact"]=>
    string(8) "0.000000"
    ["minimal_quantity"]=>
    int(1)
    ["available_date"]=>
    string(10) "2016-09-06"
    ["date_formatted"]=>
    string(10) "06/09/2016"
    ["id_image"]=>
    int(44898)
    ["list"]=>
    string(6) "'6980'"
  }
  [13918]=>
  array(14) {
    ["attributes_values"]=>
    array(1) {
      [367]=>
      string(2) "13"
    }
    ["attributes"]=>
    array(1) {
      [0]=>
      int(6981)
    }
    ["price"]=>
    float(0)
    ["specific_price"]=>
    bool(false)
    ["ecotax"]=>
    float(0)
    ["weight"]=>
    float(0)
    ["quantity"]=>
    float(0)
    ["reference"]=>
    string(0) ""
    ["unit_impact"]=>
    string(8) "0.000000"
    ["minimal_quantity"]=>
    int(1)
    ["available_date"]=>
    string(10) "2016-09-06"
    ["date_formatted"]=>
    string(10) "06/09/2016"
    ["id_image"]=>
    int(44899)
    ["list"]=>
    string(6) "'6981'"
  }
  [13919]=>
  array(14) {
    ["attributes_values"]=>
    array(1) {
      [367]=>
      string(2) "14"
    }
    ["attributes"]=>
    array(1) {
      [0]=>
      int(6982)
    }
    ["price"]=>
    float(0)
    ["specific_price"]=>
    bool(false)
    ["ecotax"]=>
    float(0)
    ["weight"]=>
    float(0)
    ["quantity"]=>
    float(0)
    ["reference"]=>
    string(0) ""
    ["unit_impact"]=>
    string(8) "0.000000"
    ["minimal_quantity"]=>
    int(1)
    ["available_date"]=>
    string(10) "2016-09-06"
    ["date_formatted"]=>
    string(10) "06/09/2016"
    ["id_image"]=>
    int(44900)
    ["list"]=>
    string(6) "'6982'"
  }
  [18870]=>
  array(14) {
    ["attributes_values"]=>
    array(1) {
      [367]=>
      string(2) "15"
    }
    ["attributes"]=>
    array(1) {
      [0]=>
      int(10388)
    }
    ["price"]=>
    float(0)
    ["specific_price"]=>
    bool(false)
    ["ecotax"]=>
    float(0)
    ["weight"]=>
    float(0)
    ["quantity"]=>
    float(18)
    ["reference"]=>
    string(0) ""
    ["unit_impact"]=>
    string(8) "0.000000"
    ["minimal_quantity"]=>
    int(1)
    ["available_date"]=>
    string(10) "2017-06-23"
    ["date_formatted"]=>
    string(10) "23/06/2017"
    ["id_image"]=>
    int(44878)
    ["list"]=>
    string(7) "'10388'"
  }
  [13920]=>
  array(14) {
    ["attributes_values"]=>
    array(1) {
      [367]=>
      string(2) "16"
    }
    ["attributes"]=>
    array(1) {
      [0]=>
      int(6983)
    }
    ["price"]=>
    float(0)
    ["specific_price"]=>
    bool(false)
    ["ecotax"]=>
    float(0)
    ["weight"]=>
    float(0)
    ["quantity"]=>
    float(35)
    ["reference"]=>
    string(0) ""
    ["unit_impact"]=>
    string(8) "0.000000"
    ["minimal_quantity"]=>
    int(1)
    ["available_date"]=>
    string(10) "2016-09-06"
    ["date_formatted"]=>
    string(10) "06/09/2016"
    ["id_image"]=>
    int(44879)
    ["list"]=>
    string(6) "'6983'"
  }
  [13921]=>
  array(14) {
    ["attributes_values"]=>
    array(1) {
      [367]=>
      string(2) "17"
    }
    ["attributes"]=>
    array(1) {
      [0]=>
      int(6984)
    }
    ["price"]=>
    float(0)
    ["specific_price"]=>
    bool(false)
    ["ecotax"]=>
    float(0)
    ["weight"]=>
    float(0)
    ["quantity"]=>
    float(46)
    ["reference"]=>
    string(0) ""
    ["unit_impact"]=>
    string(8) "0.000000"
    ["minimal_quantity"]=>
    int(1)
    ["available_date"]=>
    string(10) "2016-09-06"
    ["date_formatted"]=>
    string(10) "06/09/2016"
    ["id_image"]=>
    int(44880)
    ["list"]=>
    string(6) "'6984'"
  }
  [18871]=>
  array(14) {
    ["attributes_values"]=>
    array(1) {
      [367]=>
      string(2) "18"
    }
    ["attributes"]=>
    array(1) {
      [0]=>
      int(10389)
    }
    ["price"]=>
    float(0)
    ["specific_price"]=>
    bool(false)
    ["ecotax"]=>
    float(0)
    ["weight"]=>
    float(0)
    ["quantity"]=>
    float(14)
    ["reference"]=>
    string(0) ""
    ["unit_impact"]=>
    string(8) "0.000000"
    ["minimal_quantity"]=>
    int(1)
    ["available_date"]=>
    string(10) "2017-06-23"
    ["date_formatted"]=>
    string(10) "23/06/2017"
    ["id_image"]=>
    int(44902)
    ["list"]=>
    string(7) "'10389'"
  }
  [13922]=>
  array(14) {
    ["attributes_values"]=>
    array(1) {
      [367]=>
      string(2) "19"
    }
    ["attributes"]=>
    array(1) {
      [0]=>
      int(6985)
    }
    ["price"]=>
    float(0)
    ["specific_price"]=>
    bool(false)
    ["ecotax"]=>
    float(0)
    ["weight"]=>
    float(0)
    ["quantity"]=>
    float(22)
    ["reference"]=>
    string(0) ""
    ["unit_impact"]=>
    string(8) "0.000000"
    ["minimal_quantity"]=>
    int(1)
    ["available_date"]=>
    string(10) "2016-09-06"
    ["date_formatted"]=>
    string(10) "06/09/2016"
    ["id_image"]=>
    int(44881)
    ["list"]=>
    string(6) "'6985'"
  }
  [13923]=>
  array(14) {
    ["attributes_values"]=>
    array(1) {
      [367]=>
      string(2) "20"
    }
    ["attributes"]=>
    array(1) {
      [0]=>
      int(6986)
    }
    ["price"]=>
    float(0)
    ["specific_price"]=>
    bool(false)
    ["ecotax"]=>
    float(0)
    ["weight"]=>
    float(0)
    ["quantity"]=>
    float(34)
    ["reference"]=>
    string(0) ""
    ["unit_impact"]=>
    string(8) "0.000000"
    ["minimal_quantity"]=>
    int(1)
    ["available_date"]=>
    string(10) "2016-09-06"
    ["date_formatted"]=>
    string(10) "06/09/2016"
    ["id_image"]=>
    int(44882)
    ["list"]=>
    string(6) "'6986'"
  }
  [13924]=>
  array(14) {
    ["attributes_values"]=>
    array(1) {
      [367]=>
      string(2) "21"
    }
    ["attributes"]=>
    array(1) {
      [0]=>
      int(6987)
    }
    ["price"]=>
    float(0)
    ["specific_price"]=>
    bool(false)
    ["ecotax"]=>
    float(0)
    ["weight"]=>
    float(0)
    ["quantity"]=>
    float(0)
    ["reference"]=>
    string(0) ""
    ["unit_impact"]=>
    string(8) "0.000000"
    ["minimal_quantity"]=>
    int(1)
    ["available_date"]=>
    string(10) "2016-09-06"
    ["date_formatted"]=>
    string(10) "06/09/2016"
    ["id_image"]=>
    int(44883)
    ["list"]=>
    string(6) "'6987'"
  }
  [18872]=>
  array(14) {
    ["attributes_values"]=>
    array(1) {
      [367]=>
      string(2) "22"
    }
    ["attributes"]=>
    array(1) {
      [0]=>
      int(10390)
    }
    ["price"]=>
    float(0)
    ["specific_price"]=>
    bool(false)
    ["ecotax"]=>
    float(0)
    ["weight"]=>
    float(0)
    ["quantity"]=>
    float(0)
    ["reference"]=>
    string(0) ""
    ["unit_impact"]=>
    string(8) "0.000000"
    ["minimal_quantity"]=>
    int(1)
    ["available_date"]=>
    string(10) "2017-06-23"
    ["date_formatted"]=>
    string(10) "23/06/2017"
    ["id_image"]=>
    int(44884)
    ["list"]=>
    string(7) "'10390'"
  }
  [18873]=>
  array(14) {
    ["attributes_values"]=>
    array(1) {
      [367]=>
      string(2) "23"
    }
    ["attributes"]=>
    array(1) {
      [0]=>
      int(10391)
    }
    ["price"]=>
    float(0)
    ["specific_price"]=>
    bool(false)
    ["ecotax"]=>
    float(0)
    ["weight"]=>
    float(0)
    ["quantity"]=>
    float(2)
    ["reference"]=>
    string(0) ""
    ["unit_impact"]=>
    string(8) "0.000000"
    ["minimal_quantity"]=>
    int(1)
    ["available_date"]=>
    string(10) "2017-06-23"
    ["date_formatted"]=>
    string(10) "23/06/2017"
    ["id_image"]=>
    int(44885)
    ["list"]=>
    string(7) "'10391'"
  }
  [13925]=>
  array(14) {
    ["attributes_values"]=>
    array(1) {
      [367]=>
      string(2) "24"
    }
    ["attributes"]=>
    array(1) {
      [0]=>
      int(6988)
    }
    ["price"]=>
    float(0)
    ["specific_price"]=>
    bool(false)
    ["ecotax"]=>
    float(0)
    ["weight"]=>
    float(0)
    ["quantity"]=>
    float(50)
    ["reference"]=>
    string(0) ""
    ["unit_impact"]=>
    string(8) "0.000000"
    ["minimal_quantity"]=>
    int(1)
    ["available_date"]=>
    string(10) "2016-09-06"
    ["date_formatted"]=>
    string(10) "06/09/2016"
    ["id_image"]=>
    int(44886)
    ["list"]=>
    string(6) "'6988'"
  }
  [13926]=>
  array(14) {
    ["attributes_values"]=>
    array(1) {
      [367]=>
      string(2) "25"
    }
    ["attributes"]=>
    array(1) {
      [0]=>
      int(6989)
    }
    ["price"]=>
    float(0)
    ["specific_price"]=>
    bool(false)
    ["ecotax"]=>
    float(0)
    ["weight"]=>
    float(0)
    ["quantity"]=>
    float(6)
    ["reference"]=>
    string(0) ""
    ["unit_impact"]=>
    string(8) "0.000000"
    ["minimal_quantity"]=>
    int(1)
    ["available_date"]=>
    string(10) "2016-09-06"
    ["date_formatted"]=>
    string(10) "06/09/2016"
    ["id_image"]=>
    int(44903)
    ["list"]=>
    string(6) "'6989'"
  }
  [18874]=>
  array(14) {
    ["attributes_values"]=>
    array(1) {
      [367]=>
      string(2) "26"
    }
    ["attributes"]=>
    array(1) {
      [0]=>
      int(10392)
    }
    ["price"]=>
    float(0)
    ["specific_price"]=>
    bool(false)
    ["ecotax"]=>
    float(0)
    ["weight"]=>
    float(0)
    ["quantity"]=>
    float(21)
    ["reference"]=>
    string(0) ""
    ["unit_impact"]=>
    string(8) "0.000000"
    ["minimal_quantity"]=>
    int(1)
    ["available_date"]=>
    string(10) "2017-06-23"
    ["date_formatted"]=>
    string(10) "23/06/2017"
    ["id_image"]=>
    int(44904)
    ["list"]=>
    string(7) "'10392'"
  }
  [18875]=>
  array(14) {
    ["attributes_values"]=>
    array(1) {
      [367]=>
      string(2) "27"
    }
    ["attributes"]=>
    array(1) {
      [0]=>
      int(10393)
    }
    ["price"]=>
    float(0)
    ["specific_price"]=>
    bool(false)
    ["ecotax"]=>
    float(0)
    ["weight"]=>
    float(0)
    ["quantity"]=>
    float(0)
    ["reference"]=>
    string(0) ""
    ["unit_impact"]=>
    string(8) "0.000000"
    ["minimal_quantity"]=>
    int(1)
    ["available_date"]=>
    string(10) "2017-06-23"
    ["date_formatted"]=>
    string(10) "23/06/2017"
    ["id_image"]=>
    int(-1)
    ["list"]=>
    string(7) "'10393'"
  }
  [13927]=>
  array(14) {
    ["attributes_values"]=>
    array(1) {
      [367]=>
      string(2) "28"
    }
    ["attributes"]=>
    array(1) {
      [0]=>
      int(6990)
    }
    ["price"]=>
    float(0)
    ["specific_price"]=>
    bool(false)
    ["ecotax"]=>
    float(0)
    ["weight"]=>
    float(0)
    ["quantity"]=>
    float(4)
    ["reference"]=>
    string(0) ""
    ["unit_impact"]=>
    string(8) "0.000000"
    ["minimal_quantity"]=>
    int(1)
    ["available_date"]=>
    string(10) "2016-09-06"
    ["date_formatted"]=>
    string(10) "06/09/2016"
    ["id_image"]=>
    int(44905)
    ["list"]=>
    string(6) "'6990'"
  }
  [13928]=>
  array(14) {
    ["attributes_values"]=>
    array(1) {
      [367]=>
      string(2) "29"
    }
    ["attributes"]=>
    array(1) {
      [0]=>
      int(6991)
    }
    ["price"]=>
    float(0)
    ["specific_price"]=>
    bool(false)
    ["ecotax"]=>
    float(0)
    ["weight"]=>
    float(0)
    ["quantity"]=>
    float(24)
    ["reference"]=>
    string(0) ""
    ["unit_impact"]=>
    string(8) "0.000000"
    ["minimal_quantity"]=>
    int(1)
    ["available_date"]=>
    string(10) "2016-09-06"
    ["date_formatted"]=>
    string(10) "06/09/2016"
    ["id_image"]=>
    int(44901)
    ["list"]=>
    string(6) "'6991'"
  }
}

Drops Cotton Merino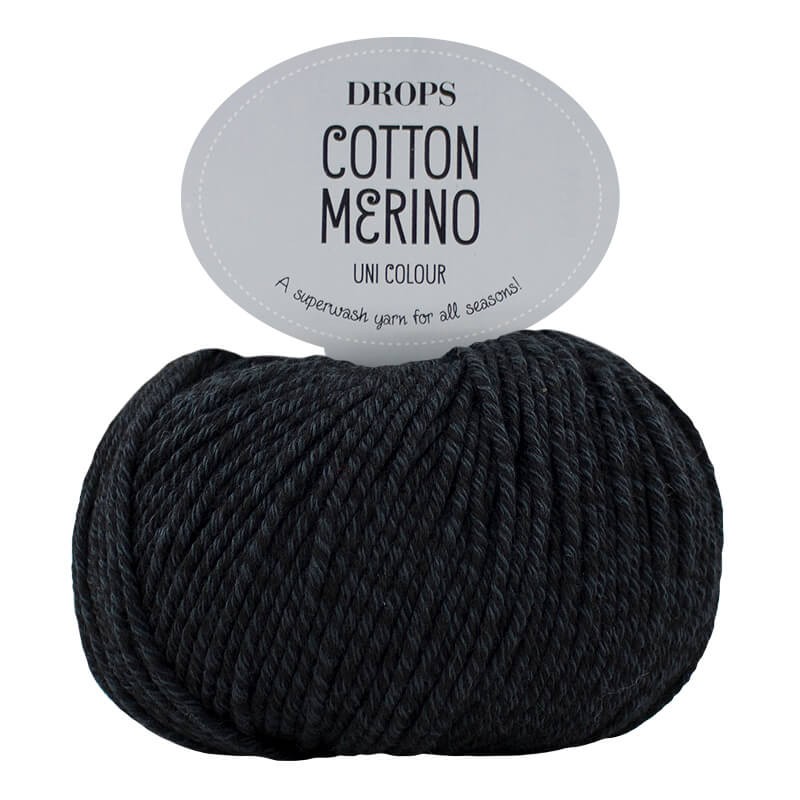  
Cotton Mérinos de Drops est une laine douce et chaude, composée de coton et de laine mérinos, des fibres naturelles qui offrent d'excellentes propriétés à votre peau. 
By buying this product you can collect up to 1 points de fidélité. Your cart will total 1 point that can be converted into a voucher of 0,04 €.
Voir le détail
Caractéristiques
Poids

50 grammes

Largeur

110 mètres

Aiguille à tricoter

4 - 4 ½

Saison

Automne - Hiver
Informations détaillées
Drops Cotton Mérinos est une laine composée d'un mélange de coton et de mérinos, des fibres naturelles très douces, légères et agréables au contact de la peau. 
Cette laine de Drops est spéciale pour les peaux délicates. Sa fibre douce ne provoque pas d'irritation. 
Quelle est la composition de Drops Cotton Mérinos ?
Une combinaison excellente en fibres qui permet d'obtenir une laine de haute qualité. Elle vous offrira douceur, chaleur et bien d'autres avantages.
Elle combine de longues et douces fibres de coton avec une laine de mérinos très douce qui vient d'Afrique et d'Amérique.
Quelles sont les caractéristiques de Cotton Merino de Drops ?
Chaque pelote de laine contient 50 grammes et 110 mètres.

Son épaisseur est parfaite pour tisser avec aiguilles à tricot de 4 mm.

Pour faire un échantillon de 10 x 10 cm, vous devrez monter 21 mailles et faire 28 rangs.

Lavage en machine à 40°C.

Ne pas mettre d'adoucissant.

Séchage à plat.

Elle dispose du certificat Oeko-Tex® certificat 25.3.0016
Grâce au traitement Superwash, cette laine peut être lavée en machine,  parfait pour les vêtements d'enfants.
Vous-avez aimé Drops Cotton Mérinos? Laissez-nous votre avis!