array(23) {
  [32095]=>
  array(14) {
    ["attributes_values"]=>
    array(1) {
      [694]=>
      string(3) "625"
    }
    ["attributes"]=>
    array(1) {
      [0]=>
      int(21634)
    }
    ["price"]=>
    float(0)
    ["specific_price"]=>
    bool(false)
    ["ecotax"]=>
    float(0)
    ["weight"]=>
    float(0)
    ["quantity"]=>
    float(18)
    ["reference"]=>
    string(0) ""
    ["unit_impact"]=>
    string(8) "0.000000"
    ["minimal_quantity"]=>
    int(1)
    ["available_date"]=>
    string(10) "2019-09-04"
    ["date_formatted"]=>
    string(10) "04/09/2019"
    ["id_image"]=>
    int(36055)
    ["list"]=>
    string(7) "'21634'"
  }
  [32096]=>
  array(14) {
    ["attributes_values"]=>
    array(1) {
      [694]=>
      string(3) "627"
    }
    ["attributes"]=>
    array(1) {
      [0]=>
      int(21635)
    }
    ["price"]=>
    float(0)
    ["specific_price"]=>
    bool(false)
    ["ecotax"]=>
    float(0)
    ["weight"]=>
    float(0)
    ["quantity"]=>
    float(20)
    ["reference"]=>
    string(0) ""
    ["unit_impact"]=>
    string(8) "0.000000"
    ["minimal_quantity"]=>
    int(1)
    ["available_date"]=>
    string(10) "2019-09-04"
    ["date_formatted"]=>
    string(10) "04/09/2019"
    ["id_image"]=>
    int(36056)
    ["list"]=>
    string(7) "'21635'"
  }
  [32097]=>
  array(14) {
    ["attributes_values"]=>
    array(1) {
      [694]=>
      string(3) "639"
    }
    ["attributes"]=>
    array(1) {
      [0]=>
      int(21636)
    }
    ["price"]=>
    float(0)
    ["specific_price"]=>
    bool(false)
    ["ecotax"]=>
    float(0)
    ["weight"]=>
    float(0)
    ["quantity"]=>
    float(19)
    ["reference"]=>
    string(0) ""
    ["unit_impact"]=>
    string(8) "0.000000"
    ["minimal_quantity"]=>
    int(1)
    ["available_date"]=>
    string(10) "2019-09-04"
    ["date_formatted"]=>
    string(10) "04/09/2019"
    ["id_image"]=>
    int(36057)
    ["list"]=>
    string(7) "'21636'"
  }
  [25369]=>
  array(14) {
    ["attributes_values"]=>
    array(1) {
      [694]=>
      string(3) "671"
    }
    ["attributes"]=>
    array(1) {
      [0]=>
      int(16058)
    }
    ["price"]=>
    float(0)
    ["specific_price"]=>
    bool(false)
    ["ecotax"]=>
    float(0)
    ["weight"]=>
    float(0)
    ["quantity"]=>
    float(6)
    ["reference"]=>
    string(0) ""
    ["unit_impact"]=>
    string(8) "0.000000"
    ["minimal_quantity"]=>
    int(1)
    ["available_date"]=>
    string(10) "2018-10-02"
    ["date_formatted"]=>
    string(10) "02/10/2018"
    ["id_image"]=>
    int(25948)
    ["list"]=>
    string(7) "'16058'"
  }
  [25370]=>
  array(14) {
    ["attributes_values"]=>
    array(1) {
      [694]=>
      string(3) "692"
    }
    ["attributes"]=>
    array(1) {
      [0]=>
      int(16059)
    }
    ["price"]=>
    float(0)
    ["specific_price"]=>
    bool(false)
    ["ecotax"]=>
    float(0)
    ["weight"]=>
    float(0)
    ["quantity"]=>
    float(16)
    ["reference"]=>
    string(0) ""
    ["unit_impact"]=>
    string(8) "0.000000"
    ["minimal_quantity"]=>
    int(1)
    ["available_date"]=>
    string(10) "2018-10-02"
    ["date_formatted"]=>
    string(10) "02/10/2018"
    ["id_image"]=>
    int(25949)
    ["list"]=>
    string(7) "'16059'"
  }
  [19865]=>
  array(14) {
    ["attributes_values"]=>
    array(1) {
      [694]=>
      string(3) "694"
    }
    ["attributes"]=>
    array(1) {
      [0]=>
      int(11238)
    }
    ["price"]=>
    float(0)
    ["specific_price"]=>
    bool(false)
    ["ecotax"]=>
    float(0)
    ["weight"]=>
    float(0)
    ["quantity"]=>
    float(13)
    ["reference"]=>
    string(0) ""
    ["unit_impact"]=>
    string(8) "0.000000"
    ["minimal_quantity"]=>
    int(1)
    ["available_date"]=>
    string(10) "2017-08-24"
    ["date_formatted"]=>
    string(10) "24/08/2017"
    ["id_image"]=>
    int(17453)
    ["list"]=>
    string(7) "'11238'"
  }
  [25371]=>
  array(14) {
    ["attributes_values"]=>
    array(1) {
      [694]=>
      string(3) "762"
    }
    ["attributes"]=>
    array(1) {
      [0]=>
      int(16060)
    }
    ["price"]=>
    float(0)
    ["specific_price"]=>
    bool(false)
    ["ecotax"]=>
    float(0)
    ["weight"]=>
    float(0)
    ["quantity"]=>
    float(7)
    ["reference"]=>
    string(0) ""
    ["unit_impact"]=>
    string(8) "0.000000"
    ["minimal_quantity"]=>
    int(1)
    ["available_date"]=>
    string(10) "2018-10-02"
    ["date_formatted"]=>
    string(10) "02/10/2018"
    ["id_image"]=>
    int(25950)
    ["list"]=>
    string(7) "'16060'"
  }
  [25372]=>
  array(14) {
    ["attributes_values"]=>
    array(1) {
      [694]=>
      string(3) "764"
    }
    ["attributes"]=>
    array(1) {
      [0]=>
      int(16061)
    }
    ["price"]=>
    float(0)
    ["specific_price"]=>
    bool(false)
    ["ecotax"]=>
    float(0)
    ["weight"]=>
    float(0)
    ["quantity"]=>
    float(1)
    ["reference"]=>
    string(0) ""
    ["unit_impact"]=>
    string(8) "0.000000"
    ["minimal_quantity"]=>
    int(1)
    ["available_date"]=>
    string(10) "2018-10-02"
    ["date_formatted"]=>
    string(10) "02/10/2018"
    ["id_image"]=>
    int(25951)
    ["list"]=>
    string(7) "'16061'"
  }
  [25373]=>
  array(14) {
    ["attributes_values"]=>
    array(1) {
      [694]=>
      string(3) "768"
    }
    ["attributes"]=>
    array(1) {
      [0]=>
      int(16062)
    }
    ["price"]=>
    float(0)
    ["specific_price"]=>
    bool(false)
    ["ecotax"]=>
    float(0)
    ["weight"]=>
    float(0)
    ["quantity"]=>
    float(41)
    ["reference"]=>
    string(0) ""
    ["unit_impact"]=>
    string(8) "0.000000"
    ["minimal_quantity"]=>
    int(1)
    ["available_date"]=>
    string(10) "2018-10-02"
    ["date_formatted"]=>
    string(10) "02/10/2018"
    ["id_image"]=>
    int(25952)
    ["list"]=>
    string(7) "'16062'"
  }
  [25374]=>
  array(14) {
    ["attributes_values"]=>
    array(1) {
      [694]=>
      string(3) "769"
    }
    ["attributes"]=>
    array(1) {
      [0]=>
      int(16063)
    }
    ["price"]=>
    float(0)
    ["specific_price"]=>
    bool(false)
    ["ecotax"]=>
    float(0)
    ["weight"]=>
    float(0)
    ["quantity"]=>
    float(1)
    ["reference"]=>
    string(0) ""
    ["unit_impact"]=>
    string(8) "0.000000"
    ["minimal_quantity"]=>
    int(1)
    ["available_date"]=>
    string(10) "2018-10-02"
    ["date_formatted"]=>
    string(10) "02/10/2018"
    ["id_image"]=>
    int(25953)
    ["list"]=>
    string(7) "'16063'"
  }
  [25375]=>
  array(14) {
    ["attributes_values"]=>
    array(1) {
      [694]=>
      string(3) "807"
    }
    ["attributes"]=>
    array(1) {
      [0]=>
      int(16064)
    }
    ["price"]=>
    float(0)
    ["specific_price"]=>
    bool(false)
    ["ecotax"]=>
    float(0)
    ["weight"]=>
    float(0)
    ["quantity"]=>
    float(2)
    ["reference"]=>
    string(0) ""
    ["unit_impact"]=>
    string(8) "0.000000"
    ["minimal_quantity"]=>
    int(1)
    ["available_date"]=>
    string(10) "2018-10-02"
    ["date_formatted"]=>
    string(10) "02/10/2018"
    ["id_image"]=>
    int(25954)
    ["list"]=>
    string(7) "'16064'"
  }
  [32098]=>
  array(14) {
    ["attributes_values"]=>
    array(1) {
      [694]=>
      string(3) "813"
    }
    ["attributes"]=>
    array(1) {
      [0]=>
      int(21637)
    }
    ["price"]=>
    float(0)
    ["specific_price"]=>
    bool(false)
    ["ecotax"]=>
    float(0)
    ["weight"]=>
    float(0)
    ["quantity"]=>
    float(9)
    ["reference"]=>
    string(0) ""
    ["unit_impact"]=>
    string(8) "0.000000"
    ["minimal_quantity"]=>
    int(1)
    ["available_date"]=>
    string(10) "2019-09-04"
    ["date_formatted"]=>
    string(10) "04/09/2019"
    ["id_image"]=>
    int(37650)
    ["list"]=>
    string(7) "'21637'"
  }
  [25376]=>
  array(14) {
    ["attributes_values"]=>
    array(1) {
      [694]=>
      string(3) "817"
    }
    ["attributes"]=>
    array(1) {
      [0]=>
      int(16065)
    }
    ["price"]=>
    float(0)
    ["specific_price"]=>
    bool(false)
    ["ecotax"]=>
    float(0)
    ["weight"]=>
    float(0)
    ["quantity"]=>
    float(0)
    ["reference"]=>
    string(0) ""
    ["unit_impact"]=>
    string(8) "0.000000"
    ["minimal_quantity"]=>
    int(1)
    ["date_formatted"]=>
    string(0) ""
    ["available_date"]=>
    string(0) ""
    ["id_image"]=>
    int(25955)
    ["list"]=>
    string(7) "'16065'"
  }
  [19866]=>
  array(14) {
    ["attributes_values"]=>
    array(1) {
      [694]=>
      string(3) "822"
    }
    ["attributes"]=>
    array(1) {
      [0]=>
      int(11239)
    }
    ["price"]=>
    float(0)
    ["specific_price"]=>
    bool(false)
    ["ecotax"]=>
    float(0)
    ["weight"]=>
    float(0)
    ["quantity"]=>
    float(6)
    ["reference"]=>
    string(0) ""
    ["unit_impact"]=>
    string(8) "0.000000"
    ["minimal_quantity"]=>
    int(1)
    ["available_date"]=>
    string(10) "2017-08-24"
    ["date_formatted"]=>
    string(10) "24/08/2017"
    ["id_image"]=>
    int(17454)
    ["list"]=>
    string(7) "'11239'"
  }
  [25377]=>
  array(14) {
    ["attributes_values"]=>
    array(1) {
      [694]=>
      string(3) "830"
    }
    ["attributes"]=>
    array(1) {
      [0]=>
      int(16066)
    }
    ["price"]=>
    float(0)
    ["specific_price"]=>
    bool(false)
    ["ecotax"]=>
    float(0)
    ["weight"]=>
    float(0)
    ["quantity"]=>
    float(10)
    ["reference"]=>
    string(0) ""
    ["unit_impact"]=>
    string(8) "0.000000"
    ["minimal_quantity"]=>
    int(1)
    ["available_date"]=>
    string(10) "2018-10-02"
    ["date_formatted"]=>
    string(10) "02/10/2018"
    ["id_image"]=>
    int(25956)
    ["list"]=>
    string(7) "'16066'"
  }
  [25378]=>
  array(14) {
    ["attributes_values"]=>
    array(1) {
      [694]=>
      string(3) "872"
    }
    ["attributes"]=>
    array(1) {
      [0]=>
      int(16067)
    }
    ["price"]=>
    float(0)
    ["specific_price"]=>
    bool(false)
    ["ecotax"]=>
    float(0)
    ["weight"]=>
    float(0)
    ["quantity"]=>
    float(18)
    ["reference"]=>
    string(0) ""
    ["unit_impact"]=>
    string(8) "0.000000"
    ["minimal_quantity"]=>
    int(1)
    ["available_date"]=>
    string(10) "2018-10-02"
    ["date_formatted"]=>
    string(10) "02/10/2018"
    ["id_image"]=>
    int(25957)
    ["list"]=>
    string(7) "'16067'"
  }
  [19867]=>
  array(14) {
    ["attributes_values"]=>
    array(1) {
      [694]=>
      string(3) "905"
    }
    ["attributes"]=>
    array(1) {
      [0]=>
      int(11240)
    }
    ["price"]=>
    float(0)
    ["specific_price"]=>
    bool(false)
    ["ecotax"]=>
    float(0)
    ["weight"]=>
    float(0)
    ["quantity"]=>
    float(18)
    ["reference"]=>
    string(0) ""
    ["unit_impact"]=>
    string(8) "0.000000"
    ["minimal_quantity"]=>
    int(1)
    ["available_date"]=>
    string(10) "2017-08-24"
    ["date_formatted"]=>
    string(10) "24/08/2017"
    ["id_image"]=>
    int(17455)
    ["list"]=>
    string(7) "'11240'"
  }
  [19868]=>
  array(14) {
    ["attributes_values"]=>
    array(1) {
      [694]=>
      string(3) "934"
    }
    ["attributes"]=>
    array(1) {
      [0]=>
      int(11241)
    }
    ["price"]=>
    float(0)
    ["specific_price"]=>
    bool(false)
    ["ecotax"]=>
    float(0)
    ["weight"]=>
    float(0)
    ["quantity"]=>
    float(17)
    ["reference"]=>
    string(0) ""
    ["unit_impact"]=>
    string(8) "0.000000"
    ["minimal_quantity"]=>
    int(1)
    ["available_date"]=>
    string(10) "2017-08-24"
    ["date_formatted"]=>
    string(10) "24/08/2017"
    ["id_image"]=>
    int(17456)
    ["list"]=>
    string(7) "'11241'"
  }
  [19869]=>
  array(14) {
    ["attributes_values"]=>
    array(1) {
      [694]=>
      string(3) "936"
    }
    ["attributes"]=>
    array(1) {
      [0]=>
      int(11242)
    }
    ["price"]=>
    float(0)
    ["specific_price"]=>
    bool(false)
    ["ecotax"]=>
    float(0)
    ["weight"]=>
    float(0)
    ["quantity"]=>
    float(5)
    ["reference"]=>
    string(0) ""
    ["unit_impact"]=>
    string(8) "0.000000"
    ["minimal_quantity"]=>
    int(1)
    ["available_date"]=>
    string(10) "2017-08-24"
    ["date_formatted"]=>
    string(10) "24/08/2017"
    ["id_image"]=>
    int(17457)
    ["list"]=>
    string(7) "'11242'"
  }
  [19870]=>
  array(14) {
    ["attributes_values"]=>
    array(1) {
      [694]=>
      string(3) "962"
    }
    ["attributes"]=>
    array(1) {
      [0]=>
      int(11243)
    }
    ["price"]=>
    float(0)
    ["specific_price"]=>
    bool(false)
    ["ecotax"]=>
    float(0)
    ["weight"]=>
    float(0)
    ["quantity"]=>
    float(24)
    ["reference"]=>
    string(0) ""
    ["unit_impact"]=>
    string(8) "0.000000"
    ["minimal_quantity"]=>
    int(1)
    ["available_date"]=>
    string(10) "2017-08-24"
    ["date_formatted"]=>
    string(10) "24/08/2017"
    ["id_image"]=>
    int(17458)
    ["list"]=>
    string(7) "'11243'"
  }
  [19871]=>
  array(14) {
    ["attributes_values"]=>
    array(1) {
      [694]=>
      string(3) "965"
    }
    ["attributes"]=>
    array(1) {
      [0]=>
      int(11244)
    }
    ["price"]=>
    float(0)
    ["specific_price"]=>
    bool(false)
    ["ecotax"]=>
    float(0)
    ["weight"]=>
    float(0)
    ["quantity"]=>
    float(2)
    ["reference"]=>
    string(0) ""
    ["unit_impact"]=>
    string(8) "0.000000"
    ["minimal_quantity"]=>
    int(1)
    ["available_date"]=>
    string(10) "2017-08-24"
    ["date_formatted"]=>
    string(10) "24/08/2017"
    ["id_image"]=>
    int(17459)
    ["list"]=>
    string(7) "'11244'"
  }
  [19872]=>
  array(14) {
    ["attributes_values"]=>
    array(1) {
      [694]=>
      string(3) "995"
    }
    ["attributes"]=>
    array(1) {
      [0]=>
      int(11245)
    }
    ["price"]=>
    float(0)
    ["specific_price"]=>
    bool(false)
    ["ecotax"]=>
    float(0)
    ["weight"]=>
    float(0)
    ["quantity"]=>
    float(0)
    ["reference"]=>
    string(0) ""
    ["unit_impact"]=>
    string(8) "0.000000"
    ["minimal_quantity"]=>
    int(1)
    ["available_date"]=>
    string(10) "2017-08-24"
    ["date_formatted"]=>
    string(10) "24/08/2017"
    ["id_image"]=>
    int(17460)
    ["list"]=>
    string(7) "'11245'"
  }
  [25379]=>
  array(14) {
    ["attributes_values"]=>
    array(1) {
      [694]=>
      string(3) "997"
    }
    ["attributes"]=>
    array(1) {
      [0]=>
      int(16068)
    }
    ["price"]=>
    float(0)
    ["specific_price"]=>
    bool(false)
    ["ecotax"]=>
    float(0)
    ["weight"]=>
    float(0)
    ["quantity"]=>
    float(0)
    ["reference"]=>
    string(0) ""
    ["unit_impact"]=>
    string(8) "0.000000"
    ["minimal_quantity"]=>
    int(1)
    ["available_date"]=>
    string(10) "2018-10-02"
    ["date_formatted"]=>
    string(10) "02/10/2018"
    ["id_image"]=>
    int(25958)
    ["list"]=>
    string(7) "'16068'"
  }
}

DMC Magnum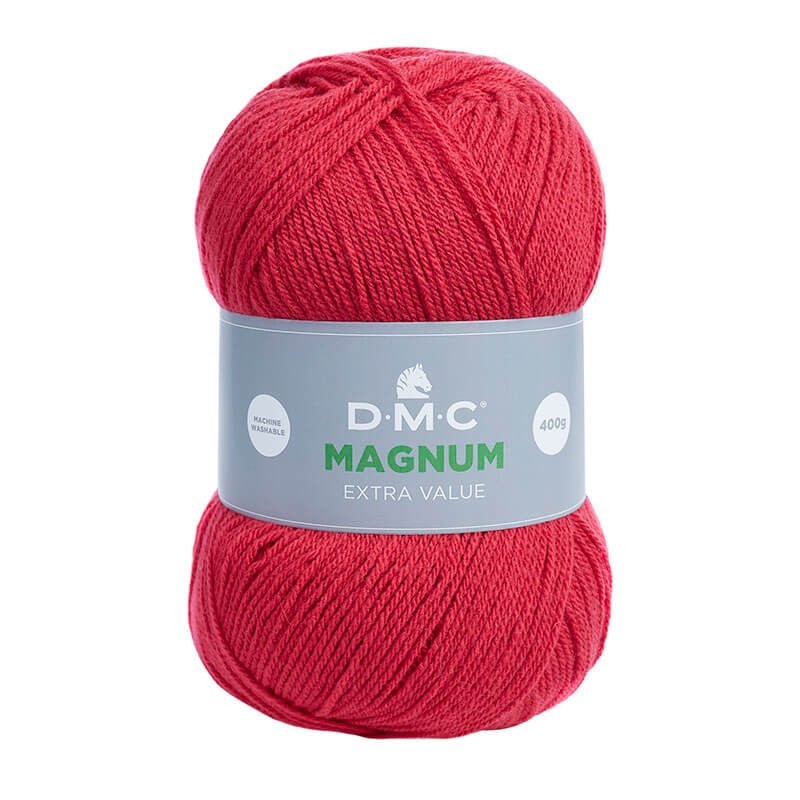  
DMC Magnum est une très grosse pelote de laine, au format XXL : elle pèse 400 grammes et 840 mètres. Cette grande quantité est parfaite pour le tricot de gros projets avec une seule pelote, comme des couvertures, des ponchos, des couvre-lits et autres choses...
By buying this product you can collect up to 6 points de fidélité. Your cart will total 6 points that can be converted into a voucher of 0,24 €.
Voir le détail
Caractéristiques
Poids

400 grammes

Largeur

840 metros

Aiguille à tricoter

5

Crochet

5

Saison

Automne - Hiver
Informations détaillées
Magnum de DMC est une laine d'épaisseur moyenne présentée en pelote de taille XXL. La grande taille de ces pelotes vous permet de faire des travaux très grands avec une seule pelote.
Elle est parfaite pour réaliser des ponchos, des couvertures et d'autres gros projets. Bien qu'il s'agisse de pelote XXL, la laine n'est pas trop épaisse, vos vêtements seront légers et confortables, avec une épaisseur moyenne.
Les couleurs proposées sont des tons unis, vous pourrez parfaitement combiner entre eux.
Quelle est la composition de Magnum DMC ?
La fibre acrylique propose un fil de haute qualité, durable et résistant malgré son usage, le temps et le lavage. Elle est idéale pour tricoter des couvertures de canapé, ce fil ne crée pas de boules et les peluches sur votre projet.
La fibre de laine a de grandes propriétés thermiques. Elle Il maintient la température du corps malgré le froid extérieur.
Quelles sont les caractéristiques de Magnum DMC ?
Chaque pelote contient 400 grammes et 840 mètres.
Travaillez ce fil avec des aiguilles à tricoter ou à crochet de 5 mm.
Une seule pelote est nécessaire pour faire une couverture ou un poncho.
Pour faire un échantillon de 10 x 10 cm, montez 18 mailles et faites 24 rangs.
Lavage en machine à une température maximale de 40ºC.
Repassage est autorisé.
Ne pas mettre au sèche-linge.
Dispose du certificat Oeko-Tex® Standard 100.
Avec une pelote de DMC Magnum, vous pouvez réaliser une couverture d'environ 1 x 1,40 mètres.
Réalisez de gros projets avec une seule pelote de DMC Magnum. Choisissez parmi les huit couleurs disponibles dans cette gamme : rouge, bleu, rose, vert, beige, noir et bleu marine.