array(60) {
  [22872]=>
  array(14) {
    ["attributes_values"]=>
    array(1) {
      [862]=>
      string(2) "10"
    }
    ["attributes"]=>
    array(1) {
      [0]=>
      int(13771)
    }
    ["price"]=>
    float(0)
    ["specific_price"]=>
    bool(false)
    ["ecotax"]=>
    float(0)
    ["weight"]=>
    float(0)
    ["quantity"]=>
    float(127)
    ["reference"]=>
    string(0) ""
    ["unit_impact"]=>
    string(8) "0.000000"
    ["minimal_quantity"]=>
    int(1)
    ["available_date"]=>
    string(10) "2018-05-19"
    ["date_formatted"]=>
    string(10) "19/05/2018"
    ["id_image"]=>
    int(22596)
    ["list"]=>
    string(7) "'13771'"
  }
  [23105]=>
  array(14) {
    ["attributes_values"]=>
    array(1) {
      [862]=>
      string(2) "80"
    }
    ["attributes"]=>
    array(1) {
      [0]=>
      int(13996)
    }
    ["price"]=>
    float(0)
    ["specific_price"]=>
    bool(false)
    ["ecotax"]=>
    float(0)
    ["weight"]=>
    float(0)
    ["quantity"]=>
    float(30)
    ["reference"]=>
    string(0) ""
    ["unit_impact"]=>
    string(8) "0.000000"
    ["minimal_quantity"]=>
    int(1)
    ["available_date"]=>
    string(10) "2018-05-21"
    ["date_formatted"]=>
    string(10) "21/05/2018"
    ["id_image"]=>
    int(22833)
    ["list"]=>
    string(7) "'13996'"
  }
  [23106]=>
  array(14) {
    ["attributes_values"]=>
    array(1) {
      [862]=>
      string(3) "100"
    }
    ["attributes"]=>
    array(1) {
      [0]=>
      int(13997)
    }
    ["price"]=>
    float(0)
    ["specific_price"]=>
    bool(false)
    ["ecotax"]=>
    float(0)
    ["weight"]=>
    float(0)
    ["quantity"]=>
    float(229)
    ["reference"]=>
    string(0) ""
    ["unit_impact"]=>
    string(8) "0.000000"
    ["minimal_quantity"]=>
    int(1)
    ["available_date"]=>
    string(10) "2018-05-21"
    ["date_formatted"]=>
    string(10) "21/05/2018"
    ["id_image"]=>
    int(22834)
    ["list"]=>
    string(7) "'13997'"
  }
  [23107]=>
  array(14) {
    ["attributes_values"]=>
    array(1) {
      [862]=>
      string(3) "122"
    }
    ["attributes"]=>
    array(1) {
      [0]=>
      int(13998)
    }
    ["price"]=>
    float(0)
    ["specific_price"]=>
    bool(false)
    ["ecotax"]=>
    float(0)
    ["weight"]=>
    float(0)
    ["quantity"]=>
    float(0)
    ["reference"]=>
    string(0) ""
    ["unit_impact"]=>
    string(8) "0.000000"
    ["minimal_quantity"]=>
    int(1)
    ["available_date"]=>
    string(10) "2018-05-21"
    ["date_formatted"]=>
    string(10) "21/05/2018"
    ["id_image"]=>
    int(22835)
    ["list"]=>
    string(7) "'13998'"
  }
  [22873]=>
  array(14) {
    ["attributes_values"]=>
    array(1) {
      [862]=>
      string(3) "123"
    }
    ["attributes"]=>
    array(1) {
      [0]=>
      int(13772)
    }
    ["price"]=>
    float(0)
    ["specific_price"]=>
    bool(false)
    ["ecotax"]=>
    float(0)
    ["weight"]=>
    float(0)
    ["quantity"]=>
    float(27)
    ["reference"]=>
    string(0) ""
    ["unit_impact"]=>
    string(8) "0.000000"
    ["minimal_quantity"]=>
    int(1)
    ["available_date"]=>
    string(10) "2018-05-19"
    ["date_formatted"]=>
    string(10) "19/05/2018"
    ["id_image"]=>
    int(22597)
    ["list"]=>
    string(7) "'13772'"
  }
  [23108]=>
  array(14) {
    ["attributes_values"]=>
    array(1) {
      [862]=>
      string(3) "126"
    }
    ["attributes"]=>
    array(1) {
      [0]=>
      int(13999)
    }
    ["price"]=>
    float(0)
    ["specific_price"]=>
    bool(false)
    ["ecotax"]=>
    float(0)
    ["weight"]=>
    float(0)
    ["quantity"]=>
    float(50)
    ["reference"]=>
    string(0) ""
    ["unit_impact"]=>
    string(8) "0.000000"
    ["minimal_quantity"]=>
    int(1)
    ["available_date"]=>
    string(10) "2018-05-21"
    ["date_formatted"]=>
    string(10) "21/05/2018"
    ["id_image"]=>
    int(22836)
    ["list"]=>
    string(7) "'13999'"
  }
  [22899]=>
  array(14) {
    ["attributes_values"]=>
    array(1) {
      [862]=>
      string(3) "131"
    }
    ["attributes"]=>
    array(1) {
      [0]=>
      int(13798)
    }
    ["price"]=>
    float(0)
    ["specific_price"]=>
    bool(false)
    ["ecotax"]=>
    float(0)
    ["weight"]=>
    float(0)
    ["quantity"]=>
    float(0)
    ["reference"]=>
    string(0) ""
    ["unit_impact"]=>
    string(8) "0.000000"
    ["minimal_quantity"]=>
    int(1)
    ["available_date"]=>
    string(10) "2018-05-20"
    ["date_formatted"]=>
    string(10) "20/05/2018"
    ["id_image"]=>
    int(22630)
    ["list"]=>
    string(7) "'13798'"
  }
  [22874]=>
  array(14) {
    ["attributes_values"]=>
    array(1) {
      [862]=>
      string(3) "134"
    }
    ["attributes"]=>
    array(1) {
      [0]=>
      int(13773)
    }
    ["price"]=>
    float(0)
    ["specific_price"]=>
    bool(false)
    ["ecotax"]=>
    float(0)
    ["weight"]=>
    float(0)
    ["quantity"]=>
    float(29)
    ["reference"]=>
    string(0) ""
    ["unit_impact"]=>
    string(8) "0.000000"
    ["minimal_quantity"]=>
    int(1)
    ["available_date"]=>
    string(10) "2018-05-19"
    ["date_formatted"]=>
    string(10) "19/05/2018"
    ["id_image"]=>
    int(22598)
    ["list"]=>
    string(7) "'13773'"
  }
  [22875]=>
  array(14) {
    ["attributes_values"]=>
    array(1) {
      [862]=>
      string(3) "162"
    }
    ["attributes"]=>
    array(1) {
      [0]=>
      int(13774)
    }
    ["price"]=>
    float(0)
    ["specific_price"]=>
    bool(false)
    ["ecotax"]=>
    float(0)
    ["weight"]=>
    float(0)
    ["quantity"]=>
    float(0)
    ["reference"]=>
    string(0) ""
    ["unit_impact"]=>
    string(8) "0.000000"
    ["minimal_quantity"]=>
    int(1)
    ["available_date"]=>
    string(10) "2018-05-19"
    ["date_formatted"]=>
    string(10) "19/05/2018"
    ["id_image"]=>
    int(22599)
    ["list"]=>
    string(7) "'13774'"
  }
  [22876]=>
  array(14) {
    ["attributes_values"]=>
    array(1) {
      [862]=>
      string(3) "163"
    }
    ["attributes"]=>
    array(1) {
      [0]=>
      int(13775)
    }
    ["price"]=>
    float(0)
    ["specific_price"]=>
    bool(false)
    ["ecotax"]=>
    float(0)
    ["weight"]=>
    float(0)
    ["quantity"]=>
    float(59)
    ["reference"]=>
    string(0) ""
    ["unit_impact"]=>
    string(8) "0.000000"
    ["minimal_quantity"]=>
    int(1)
    ["available_date"]=>
    string(10) "2018-05-19"
    ["date_formatted"]=>
    string(10) "19/05/2018"
    ["id_image"]=>
    int(22600)
    ["list"]=>
    string(7) "'13775'"
  }
  [23109]=>
  array(14) {
    ["attributes_values"]=>
    array(1) {
      [862]=>
      string(3) "164"
    }
    ["attributes"]=>
    array(1) {
      [0]=>
      int(14000)
    }
    ["price"]=>
    float(0)
    ["specific_price"]=>
    bool(false)
    ["ecotax"]=>
    float(0)
    ["weight"]=>
    float(0)
    ["quantity"]=>
    float(0)
    ["reference"]=>
    string(0) ""
    ["unit_impact"]=>
    string(8) "0.000000"
    ["minimal_quantity"]=>
    int(1)
    ["available_date"]=>
    string(10) "2018-05-21"
    ["date_formatted"]=>
    string(10) "21/05/2018"
    ["id_image"]=>
    int(22837)
    ["list"]=>
    string(7) "'14000'"
  }
  [23110]=>
  array(14) {
    ["attributes_values"]=>
    array(1) {
      [862]=>
      string(3) "165"
    }
    ["attributes"]=>
    array(1) {
      [0]=>
      int(14001)
    }
    ["price"]=>
    float(0)
    ["specific_price"]=>
    bool(false)
    ["ecotax"]=>
    float(0)
    ["weight"]=>
    float(0)
    ["quantity"]=>
    float(0)
    ["reference"]=>
    string(0) ""
    ["unit_impact"]=>
    string(8) "0.000000"
    ["minimal_quantity"]=>
    int(1)
    ["available_date"]=>
    string(10) "2018-05-21"
    ["date_formatted"]=>
    string(10) "21/05/2018"
    ["id_image"]=>
    int(22838)
    ["list"]=>
    string(7) "'14001'"
  }
  [22877]=>
  array(14) {
    ["attributes_values"]=>
    array(1) {
      [862]=>
      string(3) "174"
    }
    ["attributes"]=>
    array(1) {
      [0]=>
      int(13776)
    }
    ["price"]=>
    float(0)
    ["specific_price"]=>
    bool(false)
    ["ecotax"]=>
    float(0)
    ["weight"]=>
    float(0)
    ["quantity"]=>
    float(0)
    ["reference"]=>
    string(0) ""
    ["unit_impact"]=>
    string(8) "0.000000"
    ["minimal_quantity"]=>
    int(1)
    ["available_date"]=>
    string(10) "2018-05-19"
    ["date_formatted"]=>
    string(10) "19/05/2018"
    ["id_image"]=>
    int(22601)
    ["list"]=>
    string(7) "'13776'"
  }
  [23111]=>
  array(14) {
    ["attributes_values"]=>
    array(1) {
      [862]=>
      string(3) "175"
    }
    ["attributes"]=>
    array(1) {
      [0]=>
      int(14002)
    }
    ["price"]=>
    float(0)
    ["specific_price"]=>
    bool(false)
    ["ecotax"]=>
    float(0)
    ["weight"]=>
    float(0)
    ["quantity"]=>
    float(0)
    ["reference"]=>
    string(0) ""
    ["unit_impact"]=>
    string(8) "0.000000"
    ["minimal_quantity"]=>
    int(1)
    ["available_date"]=>
    string(10) "2018-05-21"
    ["date_formatted"]=>
    string(10) "21/05/2018"
    ["id_image"]=>
    int(22839)
    ["list"]=>
    string(7) "'14002'"
  }
  [23112]=>
  array(14) {
    ["attributes_values"]=>
    array(1) {
      [862]=>
      string(3) "178"
    }
    ["attributes"]=>
    array(1) {
      [0]=>
      int(14003)
    }
    ["price"]=>
    float(0)
    ["specific_price"]=>
    bool(false)
    ["ecotax"]=>
    float(0)
    ["weight"]=>
    float(0)
    ["quantity"]=>
    float(0)
    ["reference"]=>
    string(0) ""
    ["unit_impact"]=>
    string(8) "0.000000"
    ["minimal_quantity"]=>
    int(1)
    ["available_date"]=>
    string(10) "2018-05-21"
    ["date_formatted"]=>
    string(10) "21/05/2018"
    ["id_image"]=>
    int(22840)
    ["list"]=>
    string(7) "'14003'"
  }
  [22878]=>
  array(14) {
    ["attributes_values"]=>
    array(1) {
      [862]=>
      string(3) "191"
    }
    ["attributes"]=>
    array(1) {
      [0]=>
      int(13777)
    }
    ["price"]=>
    float(0)
    ["specific_price"]=>
    bool(false)
    ["ecotax"]=>
    float(0)
    ["weight"]=>
    float(0)
    ["quantity"]=>
    float(2)
    ["reference"]=>
    string(0) ""
    ["unit_impact"]=>
    string(8) "0.000000"
    ["minimal_quantity"]=>
    int(1)
    ["available_date"]=>
    string(10) "2018-05-19"
    ["date_formatted"]=>
    string(10) "19/05/2018"
    ["id_image"]=>
    int(22602)
    ["list"]=>
    string(7) "'13777'"
  }
  [23113]=>
  array(14) {
    ["attributes_values"]=>
    array(1) {
      [862]=>
      string(3) "200"
    }
    ["attributes"]=>
    array(1) {
      [0]=>
      int(14004)
    }
    ["price"]=>
    float(0)
    ["specific_price"]=>
    bool(false)
    ["ecotax"]=>
    float(0)
    ["weight"]=>
    float(0)
    ["quantity"]=>
    float(117)
    ["reference"]=>
    string(0) ""
    ["unit_impact"]=>
    string(8) "0.000000"
    ["minimal_quantity"]=>
    int(1)
    ["available_date"]=>
    string(10) "2018-05-21"
    ["date_formatted"]=>
    string(10) "21/05/2018"
    ["id_image"]=>
    int(22841)
    ["list"]=>
    string(7) "'14004'"
  }
  [23114]=>
  array(14) {
    ["attributes_values"]=>
    array(1) {
      [862]=>
      string(3) "207"
    }
    ["attributes"]=>
    array(1) {
      [0]=>
      int(14005)
    }
    ["price"]=>
    float(0)
    ["specific_price"]=>
    bool(false)
    ["ecotax"]=>
    float(0)
    ["weight"]=>
    float(0)
    ["quantity"]=>
    float(57)
    ["reference"]=>
    string(0) ""
    ["unit_impact"]=>
    string(8) "0.000000"
    ["minimal_quantity"]=>
    int(1)
    ["available_date"]=>
    string(10) "2018-05-21"
    ["date_formatted"]=>
    string(10) "21/05/2018"
    ["id_image"]=>
    int(22842)
    ["list"]=>
    string(7) "'14005'"
  }
  [22879]=>
  array(14) {
    ["attributes_values"]=>
    array(1) {
      [862]=>
      string(3) "211"
    }
    ["attributes"]=>
    array(1) {
      [0]=>
      int(13778)
    }
    ["price"]=>
    float(0)
    ["specific_price"]=>
    bool(false)
    ["ecotax"]=>
    float(0)
    ["weight"]=>
    float(0)
    ["quantity"]=>
    float(0)
    ["reference"]=>
    string(0) ""
    ["unit_impact"]=>
    string(8) "0.000000"
    ["minimal_quantity"]=>
    int(1)
    ["available_date"]=>
    string(10) "2018-05-19"
    ["date_formatted"]=>
    string(10) "19/05/2018"
    ["id_image"]=>
    int(22603)
    ["list"]=>
    string(7) "'13778'"
  }
  [22900]=>
  array(14) {
    ["attributes_values"]=>
    array(1) {
      [862]=>
      string(3) "212"
    }
    ["attributes"]=>
    array(1) {
      [0]=>
      int(13799)
    }
    ["price"]=>
    float(0)
    ["specific_price"]=>
    bool(false)
    ["ecotax"]=>
    float(0)
    ["weight"]=>
    float(0)
    ["quantity"]=>
    float(0)
    ["reference"]=>
    string(0) ""
    ["unit_impact"]=>
    string(8) "0.000000"
    ["minimal_quantity"]=>
    int(1)
    ["available_date"]=>
    string(10) "2018-05-20"
    ["date_formatted"]=>
    string(10) "20/05/2018"
    ["id_image"]=>
    int(22627)
    ["list"]=>
    string(7) "'13799'"
  }
  [22880]=>
  array(14) {
    ["attributes_values"]=>
    array(1) {
      [862]=>
      string(3) "214"
    }
    ["attributes"]=>
    array(1) {
      [0]=>
      int(13779)
    }
    ["price"]=>
    float(0)
    ["specific_price"]=>
    bool(false)
    ["ecotax"]=>
    float(0)
    ["weight"]=>
    float(0)
    ["quantity"]=>
    float(105)
    ["reference"]=>
    string(0) ""
    ["unit_impact"]=>
    string(8) "0.000000"
    ["minimal_quantity"]=>
    int(1)
    ["available_date"]=>
    string(10) "2018-05-19"
    ["date_formatted"]=>
    string(10) "19/05/2018"
    ["id_image"]=>
    int(22604)
    ["list"]=>
    string(7) "'13779'"
  }
  [22881]=>
  array(14) {
    ["attributes_values"]=>
    array(1) {
      [862]=>
      string(3) "215"
    }
    ["attributes"]=>
    array(1) {
      [0]=>
      int(13780)
    }
    ["price"]=>
    float(0)
    ["specific_price"]=>
    bool(false)
    ["ecotax"]=>
    float(0)
    ["weight"]=>
    float(0)
    ["quantity"]=>
    float(45)
    ["reference"]=>
    string(0) ""
    ["unit_impact"]=>
    string(8) "0.000000"
    ["minimal_quantity"]=>
    int(1)
    ["available_date"]=>
    string(10) "2018-05-19"
    ["date_formatted"]=>
    string(10) "19/05/2018"
    ["id_image"]=>
    int(22605)
    ["list"]=>
    string(7) "'13780'"
  }
  [22882]=>
  array(14) {
    ["attributes_values"]=>
    array(1) {
      [862]=>
      string(3) "216"
    }
    ["attributes"]=>
    array(1) {
      [0]=>
      int(13781)
    }
    ["price"]=>
    float(0)
    ["specific_price"]=>
    bool(false)
    ["ecotax"]=>
    float(0)
    ["weight"]=>
    float(0)
    ["quantity"]=>
    float(13)
    ["reference"]=>
    string(0) ""
    ["unit_impact"]=>
    string(8) "0.000000"
    ["minimal_quantity"]=>
    int(1)
    ["available_date"]=>
    string(10) "2018-05-19"
    ["date_formatted"]=>
    string(10) "19/05/2018"
    ["id_image"]=>
    int(22606)
    ["list"]=>
    string(7) "'13781'"
  }
  [23115]=>
  array(14) {
    ["attributes_values"]=>
    array(1) {
      [862]=>
      string(3) "218"
    }
    ["attributes"]=>
    array(1) {
      [0]=>
      int(14006)
    }
    ["price"]=>
    float(0)
    ["specific_price"]=>
    bool(false)
    ["ecotax"]=>
    float(0)
    ["weight"]=>
    float(0)
    ["quantity"]=>
    float(0)
    ["reference"]=>
    string(0) ""
    ["unit_impact"]=>
    string(8) "0.000000"
    ["minimal_quantity"]=>
    int(1)
    ["available_date"]=>
    string(10) "2018-05-21"
    ["date_formatted"]=>
    string(10) "21/05/2018"
    ["id_image"]=>
    int(22843)
    ["list"]=>
    string(7) "'14006'"
  }
  [22883]=>
  array(14) {
    ["attributes_values"]=>
    array(1) {
      [862]=>
      string(3) "220"
    }
    ["attributes"]=>
    array(1) {
      [0]=>
      int(13782)
    }
    ["price"]=>
    float(0)
    ["specific_price"]=>
    bool(false)
    ["ecotax"]=>
    float(0)
    ["weight"]=>
    float(0)
    ["quantity"]=>
    float(37)
    ["reference"]=>
    string(0) ""
    ["unit_impact"]=>
    string(8) "0.000000"
    ["minimal_quantity"]=>
    int(1)
    ["available_date"]=>
    string(10) "2018-05-19"
    ["date_formatted"]=>
    string(10) "19/05/2018"
    ["id_image"]=>
    int(22607)
    ["list"]=>
    string(7) "'13782'"
  }
  [22884]=>
  array(14) {
    ["attributes_values"]=>
    array(1) {
      [862]=>
      string(3) "221"
    }
    ["attributes"]=>
    array(1) {
      [0]=>
      int(13783)
    }
    ["price"]=>
    float(0)
    ["specific_price"]=>
    bool(false)
    ["ecotax"]=>
    float(0)
    ["weight"]=>
    float(0)
    ["quantity"]=>
    float(0)
    ["reference"]=>
    string(0) ""
    ["unit_impact"]=>
    string(8) "0.000000"
    ["minimal_quantity"]=>
    int(1)
    ["available_date"]=>
    string(10) "2018-05-19"
    ["date_formatted"]=>
    string(10) "19/05/2018"
    ["id_image"]=>
    int(22608)
    ["list"]=>
    string(7) "'13783'"
  }
  [22885]=>
  array(14) {
    ["attributes_values"]=>
    array(1) {
      [862]=>
      string(3) "222"
    }
    ["attributes"]=>
    array(1) {
      [0]=>
      int(13784)
    }
    ["price"]=>
    float(0)
    ["specific_price"]=>
    bool(false)
    ["ecotax"]=>
    float(0)
    ["weight"]=>
    float(0)
    ["quantity"]=>
    float(0)
    ["reference"]=>
    string(0) ""
    ["unit_impact"]=>
    string(8) "0.000000"
    ["minimal_quantity"]=>
    int(1)
    ["available_date"]=>
    string(10) "2018-05-19"
    ["date_formatted"]=>
    string(10) "19/05/2018"
    ["id_image"]=>
    int(22609)
    ["list"]=>
    string(7) "'13784'"
  }
  [22886]=>
  array(14) {
    ["attributes_values"]=>
    array(1) {
      [862]=>
      string(3) "223"
    }
    ["attributes"]=>
    array(1) {
      [0]=>
      int(13785)
    }
    ["price"]=>
    float(0)
    ["specific_price"]=>
    bool(false)
    ["ecotax"]=>
    float(0)
    ["weight"]=>
    float(0)
    ["quantity"]=>
    float(0)
    ["reference"]=>
    string(0) ""
    ["unit_impact"]=>
    string(8) "0.000000"
    ["minimal_quantity"]=>
    int(1)
    ["available_date"]=>
    string(10) "2018-05-19"
    ["date_formatted"]=>
    string(10) "19/05/2018"
    ["id_image"]=>
    int(22610)
    ["list"]=>
    string(7) "'13785'"
  }
  [22887]=>
  array(14) {
    ["attributes_values"]=>
    array(1) {
      [862]=>
      string(3) "224"
    }
    ["attributes"]=>
    array(1) {
      [0]=>
      int(13786)
    }
    ["price"]=>
    float(0)
    ["specific_price"]=>
    bool(false)
    ["ecotax"]=>
    float(0)
    ["weight"]=>
    float(0)
    ["quantity"]=>
    float(0)
    ["reference"]=>
    string(0) ""
    ["unit_impact"]=>
    string(8) "0.000000"
    ["minimal_quantity"]=>
    int(1)
    ["available_date"]=>
    string(10) "2018-05-19"
    ["date_formatted"]=>
    string(10) "19/05/2018"
    ["id_image"]=>
    int(22611)
    ["list"]=>
    string(7) "'13786'"
  }
  [22888]=>
  array(14) {
    ["attributes_values"]=>
    array(1) {
      [862]=>
      string(3) "225"
    }
    ["attributes"]=>
    array(1) {
      [0]=>
      int(13787)
    }
    ["price"]=>
    float(0)
    ["specific_price"]=>
    bool(false)
    ["ecotax"]=>
    float(0)
    ["weight"]=>
    float(0)
    ["quantity"]=>
    float(36)
    ["reference"]=>
    string(0) ""
    ["unit_impact"]=>
    string(8) "0.000000"
    ["minimal_quantity"]=>
    int(1)
    ["available_date"]=>
    string(10) "2018-05-19"
    ["date_formatted"]=>
    string(10) "19/05/2018"
    ["id_image"]=>
    int(22612)
    ["list"]=>
    string(7) "'13787'"
  }
  [23116]=>
  array(14) {
    ["attributes_values"]=>
    array(1) {
      [862]=>
      string(3) "226"
    }
    ["attributes"]=>
    array(1) {
      [0]=>
      int(14007)
    }
    ["price"]=>
    float(0)
    ["specific_price"]=>
    bool(false)
    ["ecotax"]=>
    float(0)
    ["weight"]=>
    float(0)
    ["quantity"]=>
    float(30)
    ["reference"]=>
    string(0) ""
    ["unit_impact"]=>
    string(8) "0.000000"
    ["minimal_quantity"]=>
    int(1)
    ["available_date"]=>
    string(10) "2018-05-21"
    ["date_formatted"]=>
    string(10) "21/05/2018"
    ["id_image"]=>
    int(22844)
    ["list"]=>
    string(7) "'14007'"
  }
  [22889]=>
  array(14) {
    ["attributes_values"]=>
    array(1) {
      [862]=>
      string(3) "227"
    }
    ["attributes"]=>
    array(1) {
      [0]=>
      int(13788)
    }
    ["price"]=>
    float(0)
    ["specific_price"]=>
    bool(false)
    ["ecotax"]=>
    float(0)
    ["weight"]=>
    float(0)
    ["quantity"]=>
    float(53)
    ["reference"]=>
    string(0) ""
    ["unit_impact"]=>
    string(8) "0.000000"
    ["minimal_quantity"]=>
    int(1)
    ["available_date"]=>
    string(10) "2018-05-19"
    ["date_formatted"]=>
    string(10) "19/05/2018"
    ["id_image"]=>
    int(22613)
    ["list"]=>
    string(7) "'13788'"
  }
  [28978]=>
  array(14) {
    ["attributes_values"]=>
    array(1) {
      [862]=>
      string(3) "233"
    }
    ["attributes"]=>
    array(1) {
      [0]=>
      int(19129)
    }
    ["price"]=>
    float(0)
    ["specific_price"]=>
    bool(false)
    ["ecotax"]=>
    float(0)
    ["weight"]=>
    float(0)
    ["quantity"]=>
    float(1)
    ["reference"]=>
    string(0) ""
    ["unit_impact"]=>
    string(8) "0.000000"
    ["minimal_quantity"]=>
    int(1)
    ["available_date"]=>
    string(10) "2019-04-12"
    ["date_formatted"]=>
    string(10) "12/04/2019"
    ["id_image"]=>
    int(31333)
    ["list"]=>
    string(7) "'19129'"
  }
  [28979]=>
  array(14) {
    ["attributes_values"]=>
    array(1) {
      [862]=>
      string(3) "234"
    }
    ["attributes"]=>
    array(1) {
      [0]=>
      int(19130)
    }
    ["price"]=>
    float(0)
    ["specific_price"]=>
    bool(false)
    ["ecotax"]=>
    float(0)
    ["weight"]=>
    float(0)
    ["quantity"]=>
    float(16)
    ["reference"]=>
    string(0) ""
    ["unit_impact"]=>
    string(8) "0.000000"
    ["minimal_quantity"]=>
    int(1)
    ["available_date"]=>
    string(10) "2019-04-12"
    ["date_formatted"]=>
    string(10) "12/04/2019"
    ["id_image"]=>
    int(31334)
    ["list"]=>
    string(7) "'19130'"
  }
  [28980]=>
  array(14) {
    ["attributes_values"]=>
    array(1) {
      [862]=>
      string(3) "235"
    }
    ["attributes"]=>
    array(1) {
      [0]=>
      int(19131)
    }
    ["price"]=>
    float(0)
    ["specific_price"]=>
    bool(false)
    ["ecotax"]=>
    float(0)
    ["weight"]=>
    float(0)
    ["quantity"]=>
    float(10)
    ["reference"]=>
    string(0) ""
    ["unit_impact"]=>
    string(8) "0.000000"
    ["minimal_quantity"]=>
    int(1)
    ["available_date"]=>
    string(10) "2019-04-12"
    ["date_formatted"]=>
    string(10) "12/04/2019"
    ["id_image"]=>
    int(31335)
    ["list"]=>
    string(7) "'19131'"
  }
  [28981]=>
  array(14) {
    ["attributes_values"]=>
    array(1) {
      [862]=>
      string(3) "236"
    }
    ["attributes"]=>
    array(1) {
      [0]=>
      int(19132)
    }
    ["price"]=>
    float(0)
    ["specific_price"]=>
    bool(false)
    ["ecotax"]=>
    float(0)
    ["weight"]=>
    float(0)
    ["quantity"]=>
    float(44)
    ["reference"]=>
    string(0) ""
    ["unit_impact"]=>
    string(8) "0.000000"
    ["minimal_quantity"]=>
    int(1)
    ["available_date"]=>
    string(10) "2019-04-12"
    ["date_formatted"]=>
    string(10) "12/04/2019"
    ["id_image"]=>
    int(31336)
    ["list"]=>
    string(7) "'19132'"
  }
  [28982]=>
  array(14) {
    ["attributes_values"]=>
    array(1) {
      [862]=>
      string(3) "237"
    }
    ["attributes"]=>
    array(1) {
      [0]=>
      int(19133)
    }
    ["price"]=>
    float(0)
    ["specific_price"]=>
    bool(false)
    ["ecotax"]=>
    float(0)
    ["weight"]=>
    float(0)
    ["quantity"]=>
    float(20)
    ["reference"]=>
    string(0) ""
    ["unit_impact"]=>
    string(8) "0.000000"
    ["minimal_quantity"]=>
    int(1)
    ["available_date"]=>
    string(10) "2019-04-12"
    ["date_formatted"]=>
    string(10) "12/04/2019"
    ["id_image"]=>
    int(31337)
    ["list"]=>
    string(7) "'19133'"
  }
  [28983]=>
  array(14) {
    ["attributes_values"]=>
    array(1) {
      [862]=>
      string(3) "238"
    }
    ["attributes"]=>
    array(1) {
      [0]=>
      int(19134)
    }
    ["price"]=>
    float(0)
    ["specific_price"]=>
    bool(false)
    ["ecotax"]=>
    float(0)
    ["weight"]=>
    float(0)
    ["quantity"]=>
    float(50)
    ["reference"]=>
    string(0) ""
    ["unit_impact"]=>
    string(8) "0.000000"
    ["minimal_quantity"]=>
    int(1)
    ["available_date"]=>
    string(10) "2019-04-12"
    ["date_formatted"]=>
    string(10) "12/04/2019"
    ["id_image"]=>
    int(31338)
    ["list"]=>
    string(7) "'19134'"
  }
  [28984]=>
  array(14) {
    ["attributes_values"]=>
    array(1) {
      [862]=>
      string(3) "239"
    }
    ["attributes"]=>
    array(1) {
      [0]=>
      int(19135)
    }
    ["price"]=>
    float(0)
    ["specific_price"]=>
    bool(false)
    ["ecotax"]=>
    float(0)
    ["weight"]=>
    float(0)
    ["quantity"]=>
    float(22)
    ["reference"]=>
    string(0) ""
    ["unit_impact"]=>
    string(8) "0.000000"
    ["minimal_quantity"]=>
    int(1)
    ["available_date"]=>
    string(10) "2019-04-12"
    ["date_formatted"]=>
    string(10) "12/04/2019"
    ["id_image"]=>
    int(31339)
    ["list"]=>
    string(7) "'19135'"
  }
  [36176]=>
  array(14) {
    ["attributes_values"]=>
    array(1) {
      [862]=>
      string(3) "243"
    }
    ["attributes"]=>
    array(1) {
      [0]=>
      int(24308)
    }
    ["price"]=>
    float(0)
    ["specific_price"]=>
    bool(false)
    ["ecotax"]=>
    float(0)
    ["weight"]=>
    float(0)
    ["quantity"]=>
    float(3)
    ["reference"]=>
    string(0) ""
    ["unit_impact"]=>
    string(8) "0.000000"
    ["minimal_quantity"]=>
    int(1)
    ["available_date"]=>
    string(10) "2020-03-25"
    ["date_formatted"]=>
    string(10) "25/03/2020"
    ["id_image"]=>
    int(42681)
    ["list"]=>
    string(7) "'24308'"
  }
  [36179]=>
  array(14) {
    ["attributes_values"]=>
    array(1) {
      [862]=>
      string(3) "244"
    }
    ["attributes"]=>
    array(1) {
      [0]=>
      int(24311)
    }
    ["price"]=>
    float(0)
    ["specific_price"]=>
    bool(false)
    ["ecotax"]=>
    float(0)
    ["weight"]=>
    float(0)
    ["quantity"]=>
    float(27)
    ["reference"]=>
    string(0) ""
    ["unit_impact"]=>
    string(8) "0.000000"
    ["minimal_quantity"]=>
    int(1)
    ["available_date"]=>
    string(10) "2020-03-26"
    ["date_formatted"]=>
    string(10) "26/03/2020"
    ["id_image"]=>
    int(42684)
    ["list"]=>
    string(7) "'24311'"
  }
  [36177]=>
  array(14) {
    ["attributes_values"]=>
    array(1) {
      [862]=>
      string(3) "245"
    }
    ["attributes"]=>
    array(1) {
      [0]=>
      int(24309)
    }
    ["price"]=>
    float(0)
    ["specific_price"]=>
    bool(false)
    ["ecotax"]=>
    float(0)
    ["weight"]=>
    float(0)
    ["quantity"]=>
    float(62)
    ["reference"]=>
    string(0) ""
    ["unit_impact"]=>
    string(8) "0.000000"
    ["minimal_quantity"]=>
    int(1)
    ["available_date"]=>
    string(10) "2020-03-25"
    ["date_formatted"]=>
    string(10) "25/03/2020"
    ["id_image"]=>
    int(42682)
    ["list"]=>
    string(7) "'24309'"
  }
  [36178]=>
  array(14) {
    ["attributes_values"]=>
    array(1) {
      [862]=>
      string(3) "246"
    }
    ["attributes"]=>
    array(1) {
      [0]=>
      int(24310)
    }
    ["price"]=>
    float(0)
    ["specific_price"]=>
    bool(false)
    ["ecotax"]=>
    float(0)
    ["weight"]=>
    float(0)
    ["quantity"]=>
    float(19)
    ["reference"]=>
    string(0) ""
    ["unit_impact"]=>
    string(8) "0.000000"
    ["minimal_quantity"]=>
    int(1)
    ["available_date"]=>
    string(10) "2020-03-25"
    ["date_formatted"]=>
    string(10) "25/03/2020"
    ["id_image"]=>
    int(42683)
    ["list"]=>
    string(7) "'24310'"
  }
  [42848]=>
  array(14) {
    ["attributes_values"]=>
    array(1) {
      [862]=>
      string(3) "254"
    }
    ["attributes"]=>
    array(1) {
      [0]=>
      int(29389)
    }
    ["price"]=>
    float(0)
    ["specific_price"]=>
    bool(false)
    ["ecotax"]=>
    float(0)
    ["weight"]=>
    float(0)
    ["quantity"]=>
    float(120)
    ["reference"]=>
    string(0) ""
    ["unit_impact"]=>
    string(8) "0.000000"
    ["minimal_quantity"]=>
    int(1)
    ["available_date"]=>
    string(10) "2021-03-02"
    ["date_formatted"]=>
    string(10) "02/03/2021"
    ["id_image"]=>
    int(52248)
    ["list"]=>
    string(7) "'29389'"
  }
  [22890]=>
  array(14) {
    ["attributes_values"]=>
    array(1) {
      [862]=>
      string(3) "320"
    }
    ["attributes"]=>
    array(1) {
      [0]=>
      int(13789)
    }
    ["price"]=>
    float(0)
    ["specific_price"]=>
    bool(false)
    ["ecotax"]=>
    float(0)
    ["weight"]=>
    float(0)
    ["quantity"]=>
    float(43)
    ["reference"]=>
    string(0) ""
    ["unit_impact"]=>
    string(8) "0.000000"
    ["minimal_quantity"]=>
    int(1)
    ["available_date"]=>
    string(10) "2018-05-19"
    ["date_formatted"]=>
    string(10) "19/05/2018"
    ["id_image"]=>
    int(22614)
    ["list"]=>
    string(7) "'13789'"
  }
  [22891]=>
  array(14) {
    ["attributes_values"]=>
    array(1) {
      [862]=>
      string(3) "325"
    }
    ["attributes"]=>
    array(1) {
      [0]=>
      int(13790)
    }
    ["price"]=>
    float(0)
    ["specific_price"]=>
    bool(false)
    ["ecotax"]=>
    float(0)
    ["weight"]=>
    float(0)
    ["quantity"]=>
    float(10)
    ["reference"]=>
    string(0) ""
    ["unit_impact"]=>
    string(8) "0.000000"
    ["minimal_quantity"]=>
    int(1)
    ["available_date"]=>
    string(10) "2018-05-19"
    ["date_formatted"]=>
    string(10) "19/05/2018"
    ["id_image"]=>
    int(22615)
    ["list"]=>
    string(7) "'13790'"
  }
  [23117]=>
  array(14) {
    ["attributes_values"]=>
    array(1) {
      [862]=>
      string(3) "466"
    }
    ["attributes"]=>
    array(1) {
      [0]=>
      int(14008)
    }
    ["price"]=>
    float(0)
    ["specific_price"]=>
    bool(false)
    ["ecotax"]=>
    float(0)
    ["weight"]=>
    float(0)
    ["quantity"]=>
    float(69)
    ["reference"]=>
    string(0) ""
    ["unit_impact"]=>
    string(8) "0.000000"
    ["minimal_quantity"]=>
    int(1)
    ["available_date"]=>
    string(10) "2018-05-21"
    ["date_formatted"]=>
    string(10) "21/05/2018"
    ["id_image"]=>
    int(22845)
    ["list"]=>
    string(7) "'14008'"
  }
  [23118]=>
  array(14) {
    ["attributes_values"]=>
    array(1) {
      [862]=>
      string(3) "509"
    }
    ["attributes"]=>
    array(1) {
      [0]=>
      int(14009)
    }
    ["price"]=>
    float(0)
    ["specific_price"]=>
    bool(false)
    ["ecotax"]=>
    float(0)
    ["weight"]=>
    float(0)
    ["quantity"]=>
    float(76)
    ["reference"]=>
    string(0) ""
    ["unit_impact"]=>
    string(8) "0.000000"
    ["minimal_quantity"]=>
    int(1)
    ["available_date"]=>
    string(10) "2018-05-21"
    ["date_formatted"]=>
    string(10) "21/05/2018"
    ["id_image"]=>
    int(22846)
    ["list"]=>
    string(7) "'14009'"
  }
  [22892]=>
  array(14) {
    ["attributes_values"]=>
    array(1) {
      [862]=>
      string(3) "525"
    }
    ["attributes"]=>
    array(1) {
      [0]=>
      int(13791)
    }
    ["price"]=>
    float(0)
    ["specific_price"]=>
    bool(false)
    ["ecotax"]=>
    float(0)
    ["weight"]=>
    float(0)
    ["quantity"]=>
    float(23)
    ["reference"]=>
    string(0) ""
    ["unit_impact"]=>
    string(8) "0.000000"
    ["minimal_quantity"]=>
    int(1)
    ["available_date"]=>
    string(10) "2018-05-19"
    ["date_formatted"]=>
    string(10) "19/05/2018"
    ["id_image"]=>
    int(22616)
    ["list"]=>
    string(7) "'13791'"
  }
  [23119]=>
  array(14) {
    ["attributes_values"]=>
    array(1) {
      [862]=>
      string(3) "589"
    }
    ["attributes"]=>
    array(1) {
      [0]=>
      int(14010)
    }
    ["price"]=>
    float(0)
    ["specific_price"]=>
    bool(false)
    ["ecotax"]=>
    float(0)
    ["weight"]=>
    float(0)
    ["quantity"]=>
    float(54)
    ["reference"]=>
    string(0) ""
    ["unit_impact"]=>
    string(8) "0.000000"
    ["minimal_quantity"]=>
    int(1)
    ["available_date"]=>
    string(10) "2018-05-21"
    ["date_formatted"]=>
    string(10) "21/05/2018"
    ["id_image"]=>
    int(22847)
    ["list"]=>
    string(7) "'14010'"
  }
  [23120]=>
  array(14) {
    ["attributes_values"]=>
    array(1) {
      [862]=>
      string(3) "695"
    }
    ["attributes"]=>
    array(1) {
      [0]=>
      int(14011)
    }
    ["price"]=>
    float(0)
    ["specific_price"]=>
    bool(false)
    ["ecotax"]=>
    float(0)
    ["weight"]=>
    float(0)
    ["quantity"]=>
    float(8)
    ["reference"]=>
    string(0) ""
    ["unit_impact"]=>
    string(8) "0.000000"
    ["minimal_quantity"]=>
    int(1)
    ["available_date"]=>
    string(10) "2018-05-21"
    ["date_formatted"]=>
    string(10) "21/05/2018"
    ["id_image"]=>
    int(22848)
    ["list"]=>
    string(7) "'14011'"
  }
  [22901]=>
  array(14) {
    ["attributes_values"]=>
    array(1) {
      [862]=>
      string(3) "740"
    }
    ["attributes"]=>
    array(1) {
      [0]=>
      int(13800)
    }
    ["price"]=>
    float(0)
    ["specific_price"]=>
    bool(false)
    ["ecotax"]=>
    float(0)
    ["weight"]=>
    float(0)
    ["quantity"]=>
    float(78)
    ["reference"]=>
    string(0) ""
    ["unit_impact"]=>
    string(8) "0.000000"
    ["minimal_quantity"]=>
    int(1)
    ["available_date"]=>
    string(10) "2018-05-20"
    ["date_formatted"]=>
    string(10) "20/05/2018"
    ["id_image"]=>
    int(22628)
    ["list"]=>
    string(7) "'13800'"
  }
  [22893]=>
  array(14) {
    ["attributes_values"]=>
    array(1) {
      [862]=>
      string(3) "820"
    }
    ["attributes"]=>
    array(1) {
      [0]=>
      int(13792)
    }
    ["price"]=>
    float(0)
    ["specific_price"]=>
    bool(false)
    ["ecotax"]=>
    float(0)
    ["weight"]=>
    float(0)
    ["quantity"]=>
    float(51)
    ["reference"]=>
    string(0) ""
    ["unit_impact"]=>
    string(8) "0.000000"
    ["minimal_quantity"]=>
    int(1)
    ["available_date"]=>
    string(10) "2018-05-19"
    ["date_formatted"]=>
    string(10) "19/05/2018"
    ["id_image"]=>
    int(22617)
    ["list"]=>
    string(7) "'13792'"
  }
  [22894]=>
  array(14) {
    ["attributes_values"]=>
    array(1) {
      [862]=>
      string(3) "823"
    }
    ["attributes"]=>
    array(1) {
      [0]=>
      int(13793)
    }
    ["price"]=>
    float(0)
    ["specific_price"]=>
    bool(false)
    ["ecotax"]=>
    float(0)
    ["weight"]=>
    float(0)
    ["quantity"]=>
    float(50)
    ["reference"]=>
    string(0) ""
    ["unit_impact"]=>
    string(8) "0.000000"
    ["minimal_quantity"]=>
    int(1)
    ["available_date"]=>
    string(10) "2018-05-19"
    ["date_formatted"]=>
    string(10) "19/05/2018"
    ["id_image"]=>
    int(22618)
    ["list"]=>
    string(7) "'13793'"
  }
  [23121]=>
  array(14) {
    ["attributes_values"]=>
    array(1) {
      [862]=>
      string(3) "846"
    }
    ["attributes"]=>
    array(1) {
      [0]=>
      int(14012)
    }
    ["price"]=>
    float(0)
    ["specific_price"]=>
    bool(false)
    ["ecotax"]=>
    float(0)
    ["weight"]=>
    float(0)
    ["quantity"]=>
    float(15)
    ["reference"]=>
    string(0) ""
    ["unit_impact"]=>
    string(8) "0.000000"
    ["minimal_quantity"]=>
    int(1)
    ["available_date"]=>
    string(10) "2018-05-21"
    ["date_formatted"]=>
    string(10) "21/05/2018"
    ["id_image"]=>
    int(22849)
    ["list"]=>
    string(7) "'14012'"
  }
  [22895]=>
  array(14) {
    ["attributes_values"]=>
    array(1) {
      [862]=>
      string(3) "861"
    }
    ["attributes"]=>
    array(1) {
      [0]=>
      int(13794)
    }
    ["price"]=>
    float(0)
    ["specific_price"]=>
    bool(false)
    ["ecotax"]=>
    float(0)
    ["weight"]=>
    float(0)
    ["quantity"]=>
    float(51)
    ["reference"]=>
    string(0) ""
    ["unit_impact"]=>
    string(8) "0.000000"
    ["minimal_quantity"]=>
    int(1)
    ["available_date"]=>
    string(10) "2018-05-19"
    ["date_formatted"]=>
    string(10) "19/05/2018"
    ["id_image"]=>
    int(22619)
    ["list"]=>
    string(7) "'13794'"
  }
  [22896]=>
  array(14) {
    ["attributes_values"]=>
    array(1) {
      [862]=>
      string(3) "864"
    }
    ["attributes"]=>
    array(1) {
      [0]=>
      int(13795)
    }
    ["price"]=>
    float(0)
    ["specific_price"]=>
    bool(false)
    ["ecotax"]=>
    float(0)
    ["weight"]=>
    float(0)
    ["quantity"]=>
    float(121)
    ["reference"]=>
    string(0) ""
    ["unit_impact"]=>
    string(8) "0.000000"
    ["minimal_quantity"]=>
    int(1)
    ["available_date"]=>
    string(10) "2018-05-19"
    ["date_formatted"]=>
    string(10) "19/05/2018"
    ["id_image"]=>
    int(22620)
    ["list"]=>
    string(7) "'13795'"
  }
  [22902]=>
  array(14) {
    ["attributes_values"]=>
    array(1) {
      [862]=>
      string(3) "866"
    }
    ["attributes"]=>
    array(1) {
      [0]=>
      int(13801)
    }
    ["price"]=>
    float(0)
    ["specific_price"]=>
    bool(false)
    ["ecotax"]=>
    float(0)
    ["weight"]=>
    float(0)
    ["quantity"]=>
    float(27)
    ["reference"]=>
    string(0) ""
    ["unit_impact"]=>
    string(8) "0.000000"
    ["minimal_quantity"]=>
    int(1)
    ["available_date"]=>
    string(10) "2018-05-20"
    ["date_formatted"]=>
    string(10) "20/05/2018"
    ["id_image"]=>
    int(22629)
    ["list"]=>
    string(7) "'13801'"
  }
  [22897]=>
  array(14) {
    ["attributes_values"]=>
    array(1) {
      [862]=>
      string(3) "901"
    }
    ["attributes"]=>
    array(1) {
      [0]=>
      int(13796)
    }
    ["price"]=>
    float(0)
    ["specific_price"]=>
    bool(false)
    ["ecotax"]=>
    float(0)
    ["weight"]=>
    float(0)
    ["quantity"]=>
    float(55)
    ["reference"]=>
    string(0) ""
    ["unit_impact"]=>
    string(8) "0.000000"
    ["minimal_quantity"]=>
    int(1)
    ["available_date"]=>
    string(10) "2018-05-19"
    ["date_formatted"]=>
    string(10) "19/05/2018"
    ["id_image"]=>
    int(22621)
    ["list"]=>
    string(7) "'13796'"
  }
  [22898]=>
  array(14) {
    ["attributes_values"]=>
    array(1) {
      [862]=>
      string(3) "915"
    }
    ["attributes"]=>
    array(1) {
      [0]=>
      int(13797)
    }
    ["price"]=>
    float(0)
    ["specific_price"]=>
    bool(false)
    ["ecotax"]=>
    float(0)
    ["weight"]=>
    float(0)
    ["quantity"]=>
    float(35)
    ["reference"]=>
    string(0) ""
    ["unit_impact"]=>
    string(8) "0.000000"
    ["minimal_quantity"]=>
    int(1)
    ["available_date"]=>
    string(10) "2018-05-19"
    ["date_formatted"]=>
    string(10) "19/05/2018"
    ["id_image"]=>
    int(22622)
    ["list"]=>
    string(7) "'13797'"
  }
}

Mondial Basic Lux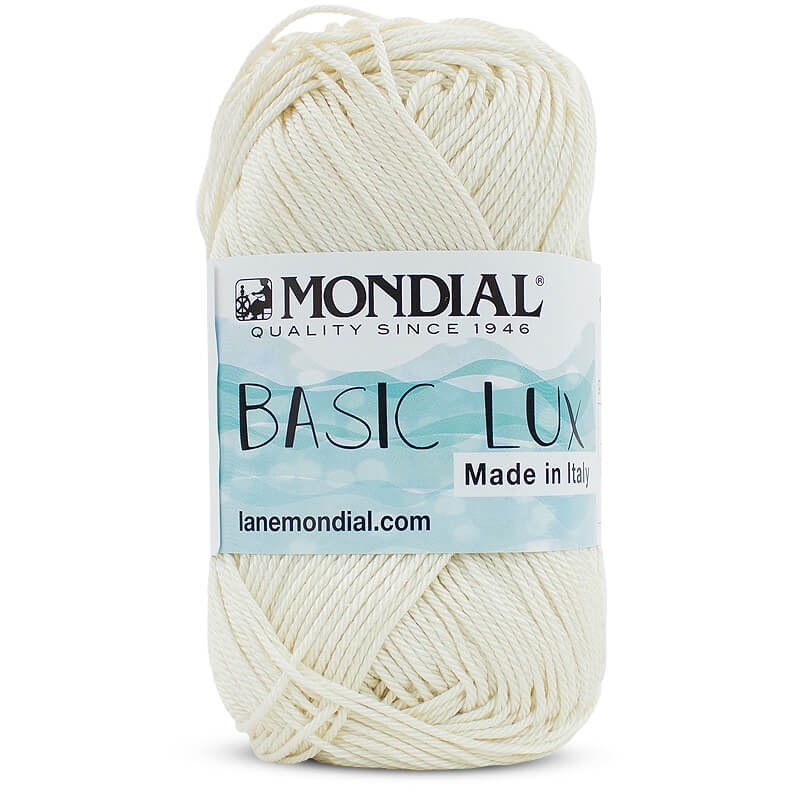  
Le fil Mondial Basic Lux est parfait pour tricoter toutes sortes de vêtements et compléments pour l'été. C'est un fil frais, doux et respirant qui apportera de la confortabilité à vos pièces confectionnées à tricot ou à crochet. Il est composé de fibres de coton mercerisé et dispose d'une large gamme de couleurs unies disponibles. 
By buying this product you can collect up to 1 points de fidélité. Your cart will total 1 point that can be converted into a voucher of 0,04 €.
Voir le détail
Caractéristiques
Poids

50 grammes

Largeur

120 mètres

Aiguille à tricoter

3 - 4

Saison

Printemps - Été
Informations détaillées
Mondial Basic Lux est un fil frais et léger composé de coton mercerisé, grâce auquel vous pourrez créer des différentes pièces et des accessoires pour la saison printemps/été.
Ce fil est disponible dans une large variété de couleurs unies très vives que vous pourrez combiner facilement entre elles ou avec les modèles jaspés de Basic Lux Stampe.
C'est le choix parfait pour créer des blouses, des paréos, des cardigans, des t-shirts ou des châles parmi d'autres.
En plus, Mondial dispose d'une gamme de modèles Basic Lux plus fine, c'est-à-dire, Basic Lux Fine.
Quelle est la composition de Mondial Basic Lux?
Les fibres de coton mercerisé de haute qualité rendent ce fil doux, frais et respirant.
Mondial Basic Lux aussi se caractérise par être un fil peigné avec un rendu parfait.
Caractéristiques du fil Basic Lux de Mondial:
Chaque pelote contient 50 grammes et 120 mètres environ.
Les aiguilles à tricoter ou à crochet recommandées sont de 3-4 mm.
Échantillon de 10 x 10 cm, avec aiguilles de 3.5 mm, vous devrez monter 22 mailles et 26 rangs.
Vous pourrez laver les pièces à la machine à une température maximale de 40ºC.
Il n'est pas recommandé d'utiliser le sèche-linge. Séchez à plat.
Vous pourrez repasser le tissu à une température d'environ 130ºC.
Quelle quantité de Mondial Basic Lux est nécessaire pour tricoter… ?
Pour tricoter un pull enfant à manches longues (10 ans), vous aurez besoin d'environ 250-300 grammes.
Pour un pull femme (taille 42), vous devrez utiliser 400-450 grammes environ.
Pour un pull homme (taille 48), vous aurez besoin d'environ 550-600 grammes environ.
Avez-vous déjà utilisé Mondial Basix Lux? Donnez-nous votre avis!