array(14) {
  [12043]=>
  array(14) {
    ["attributes_values"]=>
    array(1) {
      [8]=>
      string(5) "2 mm."
    }
    ["attributes"]=>
    array(1) {
      [0]=>
      int(1192)
    }
    ["price"]=>
    float(1.157025)
    ["specific_price"]=>
    bool(false)
    ["ecotax"]=>
    float(0)
    ["weight"]=>
    float(0)
    ["quantity"]=>
    float(25)
    ["reference"]=>
    string(4) "7714"
    ["unit_impact"]=>
    string(8) "0.000000"
    ["minimal_quantity"]=>
    int(1)
    ["date_formatted"]=>
    string(0) ""
    ["available_date"]=>
    string(0) ""
    ["id_image"]=>
    int(-1)
    ["list"]=>
    string(6) "'1192'"
  }
  [12044]=>
  array(14) {
    ["attributes_values"]=>
    array(1) {
      [8]=>
      string(8) "2.50 mm."
    }
    ["attributes"]=>
    array(1) {
      [0]=>
      int(1043)
    }
    ["price"]=>
    float(1.157025)
    ["specific_price"]=>
    bool(false)
    ["ecotax"]=>
    float(0)
    ["weight"]=>
    float(0)
    ["quantity"]=>
    float(46)
    ["reference"]=>
    string(4) "7715"
    ["unit_impact"]=>
    string(8) "0.000000"
    ["minimal_quantity"]=>
    int(1)
    ["date_formatted"]=>
    string(0) ""
    ["available_date"]=>
    string(0) ""
    ["id_image"]=>
    int(-1)
    ["list"]=>
    string(6) "'1043'"
  }
  [12045]=>
  array(14) {
    ["attributes_values"]=>
    array(1) {
      [8]=>
      string(5) "3 mm."
    }
    ["attributes"]=>
    array(1) {
      [0]=>
      int(1044)
    }
    ["price"]=>
    float(1.239669)
    ["specific_price"]=>
    bool(false)
    ["ecotax"]=>
    float(0)
    ["weight"]=>
    float(0)
    ["quantity"]=>
    float(116)
    ["reference"]=>
    string(4) "7716"
    ["unit_impact"]=>
    string(8) "0.000000"
    ["minimal_quantity"]=>
    int(1)
    ["date_formatted"]=>
    string(0) ""
    ["available_date"]=>
    string(0) ""
    ["id_image"]=>
    int(-1)
    ["list"]=>
    string(6) "'1044'"
  }
  [12046]=>
  array(14) {
    ["attributes_values"]=>
    array(1) {
      [8]=>
      string(8) "3.50 mm."
    }
    ["attributes"]=>
    array(1) {
      [0]=>
      int(1045)
    }
    ["price"]=>
    float(1.322314)
    ["specific_price"]=>
    bool(false)
    ["ecotax"]=>
    float(0)
    ["weight"]=>
    float(0)
    ["quantity"]=>
    float(6)
    ["reference"]=>
    string(4) "7717"
    ["unit_impact"]=>
    string(8) "0.000000"
    ["minimal_quantity"]=>
    int(1)
    ["date_formatted"]=>
    string(0) ""
    ["available_date"]=>
    string(0) ""
    ["id_image"]=>
    int(-1)
    ["list"]=>
    string(6) "'1045'"
  }
  [12047]=>
  array(14) {
    ["attributes_values"]=>
    array(1) {
      [8]=>
      string(5) "4 mm."
    }
    ["attributes"]=>
    array(1) {
      [0]=>
      int(1049)
    }
    ["price"]=>
    float(1.404959)
    ["specific_price"]=>
    bool(false)
    ["ecotax"]=>
    float(0)
    ["weight"]=>
    float(0)
    ["quantity"]=>
    float(16)
    ["reference"]=>
    string(4) "7718"
    ["unit_impact"]=>
    string(8) "0.000000"
    ["minimal_quantity"]=>
    int(1)
    ["date_formatted"]=>
    string(0) ""
    ["available_date"]=>
    string(0) ""
    ["id_image"]=>
    int(-1)
    ["list"]=>
    string(6) "'1049'"
  }
  [12048]=>
  array(14) {
    ["attributes_values"]=>
    array(1) {
      [8]=>
      string(8) "4.50 mm."
    }
    ["attributes"]=>
    array(1) {
      [0]=>
      int(1046)
    }
    ["price"]=>
    float(1.487603)
    ["specific_price"]=>
    bool(false)
    ["ecotax"]=>
    float(0)
    ["weight"]=>
    float(0)
    ["quantity"]=>
    float(106)
    ["reference"]=>
    string(4) "7719"
    ["unit_impact"]=>
    string(8) "0.000000"
    ["minimal_quantity"]=>
    int(1)
    ["date_formatted"]=>
    string(0) ""
    ["available_date"]=>
    string(0) ""
    ["id_image"]=>
    int(-1)
    ["list"]=>
    string(6) "'1046'"
  }
  [12049]=>
  array(14) {
    ["attributes_values"]=>
    array(1) {
      [8]=>
      string(5) "5 mm."
    }
    ["attributes"]=>
    array(1) {
      [0]=>
      int(1050)
    }
    ["price"]=>
    float(1.487603)
    ["specific_price"]=>
    bool(false)
    ["ecotax"]=>
    float(0)
    ["weight"]=>
    float(0)
    ["quantity"]=>
    float(34)
    ["reference"]=>
    string(4) "7720"
    ["unit_impact"]=>
    string(8) "0.000000"
    ["minimal_quantity"]=>
    int(1)
    ["date_formatted"]=>
    string(0) ""
    ["available_date"]=>
    string(0) ""
    ["id_image"]=>
    int(-1)
    ["list"]=>
    string(6) "'1050'"
  }
  [12050]=>
  array(14) {
    ["attributes_values"]=>
    array(1) {
      [8]=>
      string(5) "6 mm."
    }
    ["attributes"]=>
    array(1) {
      [0]=>
      int(1051)
    }
    ["price"]=>
    float(1.487603)
    ["specific_price"]=>
    bool(false)
    ["ecotax"]=>
    float(0)
    ["weight"]=>
    float(0)
    ["quantity"]=>
    float(26)
    ["reference"]=>
    string(4) "7722"
    ["unit_impact"]=>
    string(8) "0.000000"
    ["minimal_quantity"]=>
    int(1)
    ["date_formatted"]=>
    string(0) ""
    ["available_date"]=>
    string(0) ""
    ["id_image"]=>
    int(-1)
    ["list"]=>
    string(6) "'1051'"
  }
  [12051]=>
  array(14) {
    ["attributes_values"]=>
    array(1) {
      [8]=>
      string(5) "7 mm."
    }
    ["attributes"]=>
    array(1) {
      [0]=>
      int(1052)
    }
    ["price"]=>
    float(2.272727)
    ["specific_price"]=>
    bool(false)
    ["ecotax"]=>
    float(0)
    ["weight"]=>
    float(0)
    ["quantity"]=>
    float(14)
    ["reference"]=>
    string(4) "7753"
    ["unit_impact"]=>
    string(8) "0.000000"
    ["minimal_quantity"]=>
    int(1)
    ["date_formatted"]=>
    string(0) ""
    ["available_date"]=>
    string(0) ""
    ["id_image"]=>
    int(-1)
    ["list"]=>
    string(6) "'1052'"
  }
  [12052]=>
  array(14) {
    ["attributes_values"]=>
    array(1) {
      [8]=>
      string(5) "8 mm."
    }
    ["attributes"]=>
    array(1) {
      [0]=>
      int(1053)
    }
    ["price"]=>
    float(2.438017)
    ["specific_price"]=>
    bool(false)
    ["ecotax"]=>
    float(0)
    ["weight"]=>
    float(0)
    ["quantity"]=>
    float(19)
    ["reference"]=>
    string(4) "7754"
    ["unit_impact"]=>
    string(8) "0.000000"
    ["minimal_quantity"]=>
    int(1)
    ["date_formatted"]=>
    string(0) ""
    ["available_date"]=>
    string(0) ""
    ["id_image"]=>
    int(-1)
    ["list"]=>
    string(6) "'1053'"
  }
  [12053]=>
  array(14) {
    ["attributes_values"]=>
    array(1) {
      [8]=>
      string(5) "9 mm."
    }
    ["attributes"]=>
    array(1) {
      [0]=>
      int(1054)
    }
    ["price"]=>
    float(2.438017)
    ["specific_price"]=>
    bool(false)
    ["ecotax"]=>
    float(0)
    ["weight"]=>
    float(0)
    ["quantity"]=>
    float(41)
    ["reference"]=>
    string(4) "7755"
    ["unit_impact"]=>
    string(8) "0.000000"
    ["minimal_quantity"]=>
    int(1)
    ["date_formatted"]=>
    string(0) ""
    ["available_date"]=>
    string(0) ""
    ["id_image"]=>
    int(-1)
    ["list"]=>
    string(6) "'1054'"
  }
  [12054]=>
  array(14) {
    ["attributes_values"]=>
    array(1) {
      [8]=>
      string(6) "10 mm."
    }
    ["attributes"]=>
    array(1) {
      [0]=>
      int(1055)
    }
    ["price"]=>
    float(2.438017)
    ["specific_price"]=>
    bool(false)
    ["ecotax"]=>
    float(0)
    ["weight"]=>
    float(0)
    ["quantity"]=>
    float(36)
    ["reference"]=>
    string(4) "7756"
    ["unit_impact"]=>
    string(8) "0.000000"
    ["minimal_quantity"]=>
    int(1)
    ["date_formatted"]=>
    string(0) ""
    ["available_date"]=>
    string(0) ""
    ["id_image"]=>
    int(-1)
    ["list"]=>
    string(6) "'1055'"
  }
  [12055]=>
  array(14) {
    ["attributes_values"]=>
    array(1) {
      [8]=>
      string(6) "12 mm."
    }
    ["attributes"]=>
    array(1) {
      [0]=>
      int(1056)
    }
    ["price"]=>
    float(3.22314)
    ["specific_price"]=>
    bool(false)
    ["ecotax"]=>
    float(0)
    ["weight"]=>
    float(0)
    ["quantity"]=>
    float(21)
    ["reference"]=>
    string(4) "7778"
    ["unit_impact"]=>
    string(8) "0.000000"
    ["minimal_quantity"]=>
    int(1)
    ["date_formatted"]=>
    string(0) ""
    ["available_date"]=>
    string(0) ""
    ["id_image"]=>
    int(-1)
    ["list"]=>
    string(6) "'1056'"
  }
  [12056]=>
  array(14) {
    ["attributes_values"]=>
    array(1) {
      [8]=>
      string(6) "15 mm."
    }
    ["attributes"]=>
    array(1) {
      [0]=>
      int(1042)
    }
    ["price"]=>
    float(3.801653)
    ["specific_price"]=>
    bool(false)
    ["ecotax"]=>
    float(0)
    ["weight"]=>
    float(0)
    ["quantity"]=>
    float(33)
    ["reference"]=>
    string(4) "7759"
    ["unit_impact"]=>
    string(8) "0.000000"
    ["minimal_quantity"]=>
    int(1)
    ["date_formatted"]=>
    string(0) ""
    ["available_date"]=>
    string(0) ""
    ["id_image"]=>
    int(-1)
    ["list"]=>
    string(6) "'1042'"
  }
}

Aiguilles à Crochet Katia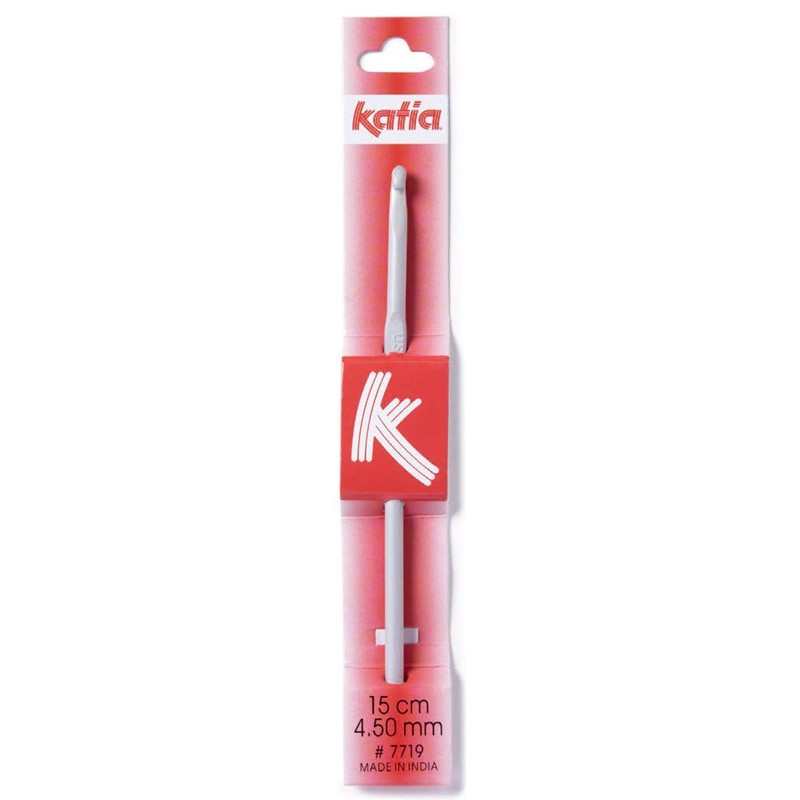  
Crochets de laines Katia, parfaits pour tricoter avec confort vos ouvrages. Cettes aiguilles à crochet sont faites en aluminium ou plastique dependant la mesure.
By buying this product you can collect up to 2 points de fidélité. Your cart will total 2 points that can be converted into a voucher of 0,08 €.
Informations détaillées
Aiguilles à crochet de laines Katia, sont des crochets confortable pour tricoter des ouvrages. Du Nº2 au Nº 5 sont faites en aluminium et du Nº 6 au Nº 15 sont faites en plastique. Toutes les aiguilles à crochet ont une parfaite finition pour donner à vos ouvrages une excellent qualité.
Ils sont des crochets parfaits pour tricoter des amigurumis, des vêtements, des compléments et des accessoires pour la maison.
Les crochets ont 15 cm de longueur, moins le 12 et le 15 que ont 17 cm.
Numero de crochet
Matériau
Longueur
2
Aluminium
15 cm
2

½

Aluminium
15 cm
3
Aluminium
15 cm
3

½

Aluminium
15 cm
4
Aluminium
15 cm
4

½

Aluminium
15 cm
5
Aluminium
15 cm
6
Plastique
15 cm
7
Plastique
15 cm
8
Plastique
15 cm
9
Plastique
15 cm
10
Plastique
15 cm
12
Plastique
17 cm
15
Plastique
17 cm
L'aluminium et le platique sont des matériaux très légers, qui permettent travailler pendant heures vos projets sans fatiguer votre main. Des crochets pour travailler facile et rapidement.